A new thesis from the Sahlgrenska Academy at the University of Gothenburg, Sweden says elite athlete injuries could be reduced if players perform injury-preventing strength training  with supervision.   About half of Swedish elite volleyball players suffer at least one injury per season.
The thesis says that supervised strength training makes the athletes perform much better than when exercising alone. Two groups of female volleyball players were given different exercise programs. One group received personalised programs that were performed under the supervision of a physiotherapist, while the members of the other group were given a standard programme that was performed unsupervised. The former group improved their performance 50 percent more that the latter group. In addition, the proportion of injured players was smaller in the supervised group.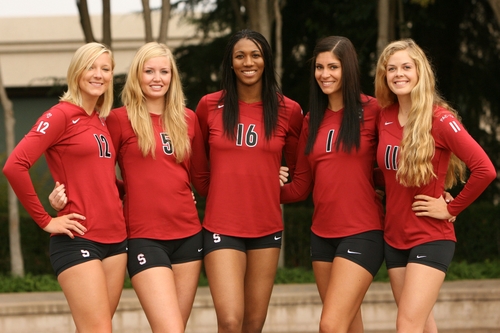 Strength training could help protect Sweden's greatest natural resource.
To set the baseline, all Swedish elite-level teams were invited to participate in the study, and 158 players returned the questionnaire that had been mailed out near the end of the volleyball season. The responses show that about half of the players had been injured at least once during the season. Almost everybody performed some kind of injury-prevention activity, but a majority did it without supervision.
"This is surprising since it is well-known that the training is much more effective if a coach or a physiotherapist develops an individualised programme and is present during the training sessions," says physiotherapist Sofia Augustsson, the author of the study.
'I have a feeling that more athletes really stick to the programme and focus on the task if there is a coach present. Many players may feel that the strength and conditioning training is the boring part of their sport, which makes it tempting to "cheat" when nobody is watching,' says Augustsson.
References:
 Injuries and preventive actions in elite Swedish volleyball. Augustsson SR, Augustsson J, Thomeé R, Svantesson U. Scand J Med Sci Sports 2006:16: 433-440.
Gender differences and reliability of selected physical performance tests in young
women and men. Augustsson SR, Bersås E. Magnusson Thomas E, Sahlberg M, Augustsson J, Svantesson U. Advances in Physiotherapy 2009: 11: 64-70.
Performance enhancement following a strength and injury prevention programme:
a 26-week individualized and supervised intervention in adolescent female
volleyball players. Augustsson SR, Augustsson J, Thomeé R, Karlsson J, Eriksson B, Svantesson U. Submitted.
Athletes' experience of individualised and supervised strength training for physical
performance and injury prevention. Augustsson SR, Willén C. Submitted.