Scientists in France are reporting for the first time that sculptors from the fantastically wealthy ancient Empire of Mali — once the source of almost half the world's gold — used blood to form the beautiful patina, or coating, on their works of art.
In a study published in Analytical Chemistry, Pascale Richardin and colleagues describe development of a new, noninvasive test that accurately identifies traces of blood apparently left on ancient African artifacts used in ceremonies involving animal sacrifices.
Archaeologists often had reported or suspected the presence of blood on many African artifacts, the study points out. However, accurately identifying the presence of blood was difficult because of the tiny amounts of blood remaining over the ages.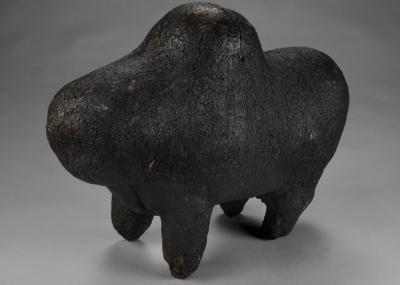 A new, highly-sensitive analytical test was used to confirm the presence of blood in the coating of this animal-like artifact used in ancient Mali rituals. Credit: Pascale Richardin, Center for Research and Restoration for the Museums of France
The researchers describe use of three highly sensitive tests — time-of-flight secondary ion mass spectrometry, infrared microscopy, and X-ray microfluoresence — to identify iron-bound (the chemical fingerprint of blood) on the patina from seven Dogon and Bamana sculptures from Mali. The technique, which caused virtually no damage to priceless artworks, also is suitable for identification of blood on other ancient artifacts, the study states.
ARTICLE: "Identification of Ritual Blood in African Artifacts using TOF-SIMS and Synchrotron Radiation Microspectroscopies", http://pubs.acs.org/cgi-bin/sample.cgi/ancham/asap/html/ac070993k.html