Dinosaur hunters on a month-long expedition to the Sahara desert have returned home in time for Christmas with more than they ever dreamed of finding. 
They have unearthed not one but two possible new species of extinct animals. Their success marks one of the most exciting discoveries to come out of Africa for 50 years. 
The team have discovered what appears to be a new type of pterosaur and a previously unknown sauropod, a species of giant plant-eating dinosaur. Both would have lived almost one hundred million years ago. 
The palaeontologists discovered a large fragment of beak from a giant flying reptile and a more than one metre long bone from a sauropod, which indicates an animal of almost 20 metres (65 feet) in length. The discovery of both is extremely rare.   The expedition was composed of scientists from the University of Portsmouth, University College Dublin (UCD) and the Université Hassan II in Casablanca and was led by UCD palaeontologist, Nizar Ibrahim. 
Nizar Ibrahim from UCD and Dr David Martill from the University of Portsmouth and the team carrying the sauropod bone from its location in the desert
Ibrahim, who is an expert on North African dinosaurs, said: ""Finding two specimens in one expedition is remarkable, especially as both might well represent completely new species." 
Dr David Martill, a reader in Palaeobiology at the University of Portsmouth, said: "Plant eaters are uncommon in this deposit, extremely rare in this region and to find one this large is very exciting. It's a major discovery." 
For Martill it was also significant because it marked a successful conclusion to a quest begun almost 25 years ago. In 1984, driven back by sandstorms, his original mission to find a sauropod came to a halt just 20 miles away from the area of desert he had pinpointed as ripe for excavation. He returned empty handed but was left itching to retrace his steps. 
A quarter of a century later he unearthed the dinosaur that eluded him so long ago, together with fellow enthusiast, Ibrahim to whom he is passing the baton. 
Ibrahim will undertake the detailed analysis of the sauropod bone, which both scientists expect is a new species and genus of the sauropod family. 
"From our initial examination on site, we're almost certain that we have a new species on our hands," said Ibrahim, who will spend the next six months examining all of the fossils and writing about them for his PhD thesis.   He will also examine the pterosaur remains which are particularly uncommon because their bones, optimised for flight, were light and flimsy and seldom well preserved.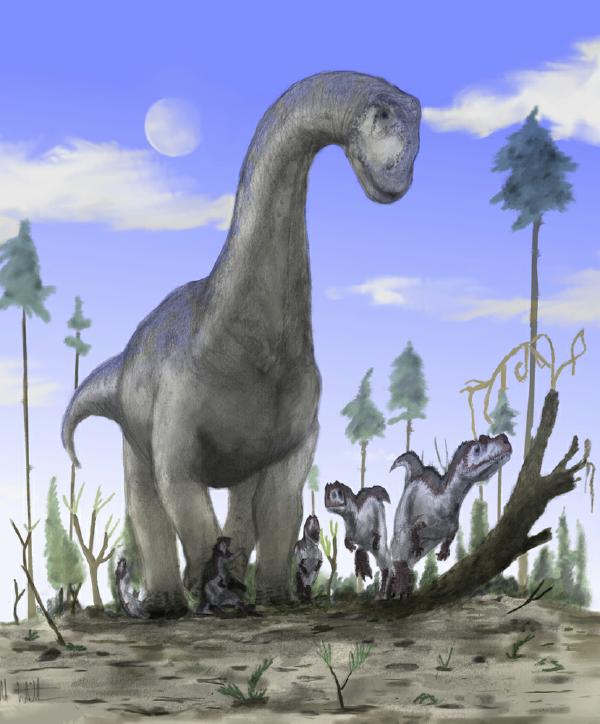 An artists impression of a sauropod dinosaur.  Credit: Mark Witton/Mike Taylor
He said: "Most pterosaur discoveries are just fragments of teeth and bone so it was thrilling to find a large part of a beak and this was enough to tell us we probably have a new species."
The team spent a month in the desert and travelled over five thousand miles by Landrover in an epic overland trip which has taken them through the Atlas mountains and has seen them battling sandstorms and floods in an Indiana Jones-style quest. 
Having discovered the giant sauropod bone they had to return to the nearest town to get more water and plaster with which to protect it, a trip which involved crossing flooded rivers in their Landrover at night with water coming in through the doors. 
During their fieldwork they were cut off from civilisation for 4 days when heavy rain in the Atlas mountains flooded the river Ziz. To retrieve the bone they had to manhandle the fossil in its plaster jacket down the side of a mountain, clearing thousands of stones to make a safe path to carry it on a wooden stretcher. 
"There was a point when we wondered if we would make it out of the desert with the bone, but we had worked so hard to find it so there was no way I was leaving it behind. It took us 5 days to get the bone out of the ground and down the mountain – and that was not the end of our problems," said Ibrahim.
Dr Martill added: "When we had managed to get the bone in the Landrover the extra weight meant we kept sinking in the sand dunes and on several occasions everybody except the driver had to walk while we negotiated difficult terrain. Our journey home was equally eventful. While crossing the Atlas mountains we got caught in a snowstorm and total whiteout. But it's all been worth it."
The team were also excited to discover some rare dinosaur footprints, including some that record several animals walking along the same trail.
As well as discovering hundreds of dinosaur teeth, they also unearthed bits of giant crocodiles and some new species of fish. 
Ibrahim said: "It's amazing to think that millions of years ago the Sahara was in fact a lush green tropical paradise, home to giant dinosaurs and crocodiles and nothing like the dusty desert we see today. Even to a palaeontologist dealing in millions of years it gives one an overwhelming sense of deep time."
The team also included Moroccan scientists Prof Samir Zouhri and Dr Lahssen Baidder as well as Portsmouth researchers
Dr Darren Naish
, Dr Robert Loveridge and Richard Hing.
Prof Samir Zouhri, head of the Department of Geology at the Université Hassan II in Casablanca said: "Nizar Ibrahim is a very determined researcher and I knew that he would have success on this trip, but these fossils exceeded our expectations. It is wonderful that we have made these siginficant discoveries and that they will return to Morocco for display after study in Dublin."
The sauropod and the pterosaur were found in south-east Morocco, near the Algerian border.