Lockheed Martin rolled out a conventional takeoff and landing (CTOL) variant of the F-35 Lightning II fighter, called F-35AF-1, which joins three weight-optimized F-35B short takeoff/vertical landing variants currently undergoing testing. The aircraft are structurally identical to the F-35s that will be delivered to armed services beginning in 2010.
The first F-35A, known as AA-1, has completed 69 flights, and has a production-representative external shape and internal systems. Unlike AF-1 and the other F-35 test aircraft, AA-1's internal structure was designed before a 2004 weight-savings program resulted in structural revisions to all three F-35 variants.
"The Lightning II CTOL aircraft will be, by far, the most widely employed F-35 variant in the world, with more than 1,700 to be used by the U.S. Air Force alone," said Dan Crowley, Lockheed Martin executive vice president and F-35 program general manager. "The F-35A we delivered is, at its core, the same aircraft that will enter operational service with the Air Force and international customers."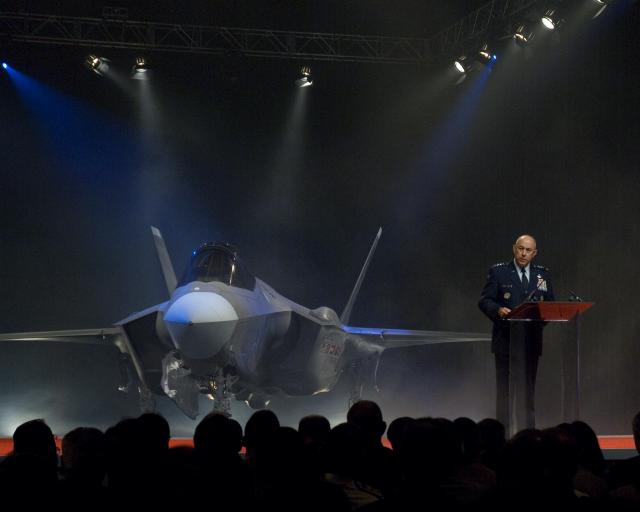 AF-1 is the first F-35 to have employed the moving assembly line at its full-rate production speed of 50 inches (127 millimeters) per hour. Workers tested the system by installing the vertical tails as the line moved at maximum speed. The moving assembly line, designed to improve production quality and speed, is the first ever for a modern fighter. AF-1 becomes the first aircraft since World War II to use a moving assembly line at Lockheed Martin's (formerly Consolidated Vultee, Convair and General Dynamics) Fort Worth factory.
F-35 Lightning II systems and parts are built by industries worldwide. Six F-35s are now complete, 17 are in assembly - including the first Low Rate Initial Production aircraft - and F-35 test aircraft have completed 83 flights.
Lockheed Martin is developing the F-35 with its principal industrial partners Northrop Grumman and BAE Systems. Two separate, interchangeable F-35 engines are under development: the Pratt&Whitney F135 and the GE Rolls-Royce Fighter Engine Team F136.