A new analysis
of human remains from ancient DNA of six individuals buried in Malawi, Tanzania and Zambia who lived between 18,000 and 5,000 years ago has produced the earliest DNA from the continent, and giving some insight into how early humans lived, traveled and even found love.
The study also reanalyzed published data from 28 individuals buried at sites across the continent, generating new and improved data for 15 of them. The dataset of DNA from ancient African foragers reveals a genetic legacy difficult to reconstruct from present-day people because of the many population movements and mixtures that have occurred in the last few thousand years.
Thanks to this data, the researchers were able to outline major demographic shifts that took place between about 80,000 and 20,000 years ago. As far back as about 50,000 years ago, people from different regions of the continent moved and settled in other areas and developed alliances and networks over longer distances to trade, share information and even find reproductive partners. This social network helped them survive and thrive, the researchers wrote.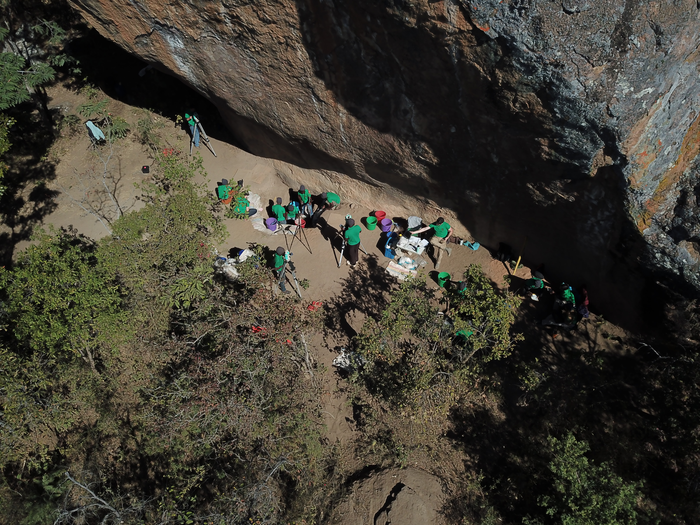 Hora Rockshelter in Malawi, where recent excavations uncovered two of the individuals analyzed in a collaborative study of ancient DNA. Credit: Jacob Davis.
Co-author Dr. Elizabeth Sawchuk of the University of Alberta, said a dramatic cultural change took place during this timeframe, as beads, pigments and other symbolic art became common across Africa. Researchers long assumed that major changes in the archaeological record about 50,000 years ago reflected a shift in social networks and maybe even changes in population size. However, such hypotheses have remained difficult to test.
Co-author Professor Mary Prendergast of Rice University said there are arguments that the development and expansion of long-distance trade networks around this time helped humans weather the last Ice Age.
The researchers were also able to demonstrate that by about 20,000 years ago, people had stopped moving around so much, perhaps because established social networks allowed for the flow of information and technologies without people having to move.