Supplement distributor USA LESS has been forced to recall all of its LEOPARD Miracle Honey, which touts itself as "an instant source of energy and enhancement of male vitality", from stores because the U.S. Food and Drug Administration discovered why it works for male vitality.
It's not their bogus mixture of rainforest herbs such as Tongkat Ali root, Ginseng root, Carob and Cinnamon,
it's the presence of actual Sildenafil
, the active ingredient in Viagra.
Sildenafil is FDA approved drug for male erectile dysfunction but that doesn't mean hucksters can just throw it into their supplement products. Doing so means LEOPARD Miracle Honey is not an exempt supplement, which under President Clinton's Dietary Supplement Health and Education Act of 1994 allows almost any marketing claim to be made as long as a sentence about lacking scientific validation is included, it means it is an unapproved drug that did not go through clinical trials.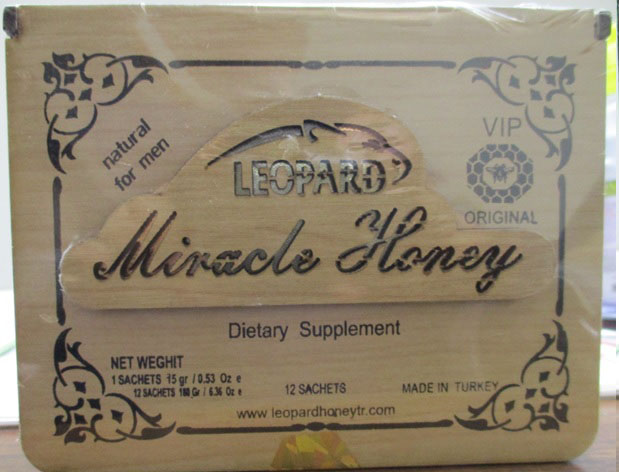 If you have LEOPARD Miracle Honey (UPC CODE 8 699415 910534 containing 12 SACHETS, total 180 Gr/6.36 Oz.) or the single sachet 15 gr/0.53 Oz, labeled LEOPARD Miracle of Honey, (UPC CODE 8 699415 91285) and you are taking nitrates for diabetes, hypertension, high cholesterol or heart disease, this could be a deadly combination. Fortunately no known harm has occurred yet.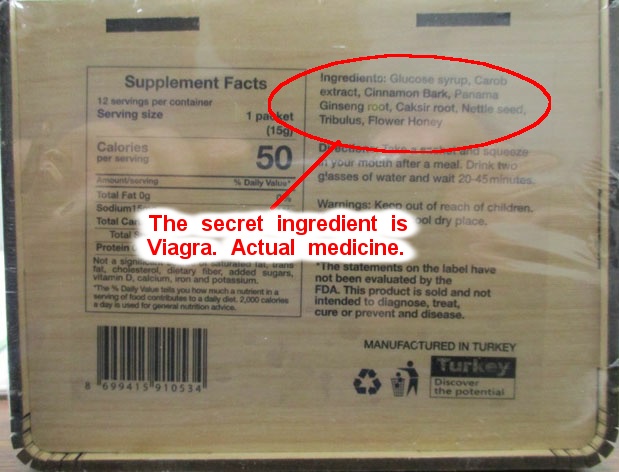 USA LESS is arranging for returns of recalled products at: USA LESS, PO Box 250-138, BROOKLYN, NY 11225. If you have had an adverse effect report it through the FDA's MedWatch
Adverse Event Reporting program
. If the company refuses to issue a refund, the FDA will want to know that also.