The Food and Drug Administration announced Thursday that a Pennsylvania-based company is voluntarily recalling several products marketed as dietary supplements for "male enhancement" after the agency says it found they contained active drugs.
Nova Products, Inc., an adult products wholesaler, will recall packs of African Black Ant, Black Ant, XZen Gold, ZXen Platinum, XZen 1200, XZone Gold, and XZone 1200, according to an FDA press release.
Laboratory analysis of the supplements showed they contained the drugs sildenafil and tadalafil,both of which are active ingredients in popular prescription drugs used to treat male erectile dysfunction. Viagra contains sildenafil; Cialis contains tadalafil.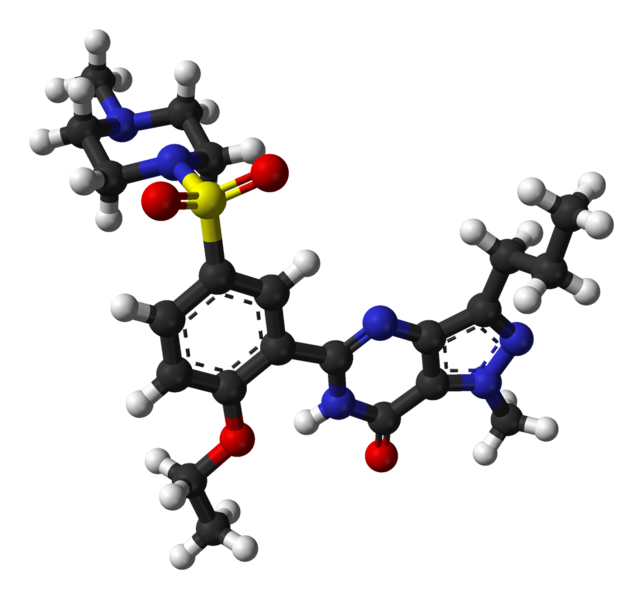 Sildeanfil, the active ingredient in such prescription drugs as Viagra. Public domain image.
"These undeclared active ingredients pose a threat to consumers because they can interact with nitrates found in some prescription drugs (such as nitroglycerin), resulting in decreased blood pressure," the FDA's release said. "Prescription drugs containing nitrates are frequently prescribed for individuals with diabetes, high blood pressure, high cholesterol, or heart disease."
The company said it would issue recall notices to its distributors by mail. Some of the recalled products were still listed on websites Friday.
One website described African Black Ant as an "ancient Tibetan pure natural herbal Super Remedy," and claimed it included such ingredients as caterpillar fungus, lotus, deer penis, Tibetan yak testis, and fur seal penis.
Dietary supplements are not regulated as strictly as drugs in the U.S.; they're defined by the Dietary Supplement Health and Education Act as a category of food. Drug manufacturers must go through a multi-step approval process before they can sell products either over the counter or with a prescription.
Discoveries that products marketed as supplements actually contain pharmaceutical ingredients are nothing new. Numerous undisclosed chemicals have been found in recent years, leading to a slew of recalls, crackdowns and court actions.
Critics of the industry point to a double-standard in federal regulation of herbal medicines and fosters poor safety and quality control standards.
"The separate regulatory systems for natural products, supplements and herbs in Canada and the United States have led to a boon in the development and sale of these products," wrote Canadian pharmacist Scott Gavura in a November 2013 post to the skeptical watchdog blog Science-Based Medicine.
"The barriers to establishing a business are trivial compared to drugs," Gavura wrote. "Importantly, there's no requirement to actually demonstrate your product works. There's not even a requirement to show your product is consistent batch-to-batch, because to show that you'd first need to demonstrate some objective and measurable effects."
The FDA said consumers can report adverse reactions or quality control problems to its web-based MedWatch Adverse Event Reporting program, by regular mail or by fax.