The history of humans is a history of expansion, from the recesses of Africa outward across the world. No one is really a native and yet everyone is, because all humans were first an invasive species but if you are born in a place, you are then native.
Some will claim their ancestors lived in a place 12,000 years ago, but unless they had an individual genomic analysis it's no more valid than saying they were descended from Genghis Khan, yet science is converging on ways to go beyond the silly '12 percent Irish' claims based on 23andMe or Ancestry and really determine if your ancestors were as close to the first humans as can exist.
For some in South America, it may go even farther back than 12,000 years. It may be 18,000. Caution is warranted. These data were often categorized in the first place using folklore and linguistics, not science, but biology and archeology help ground the results.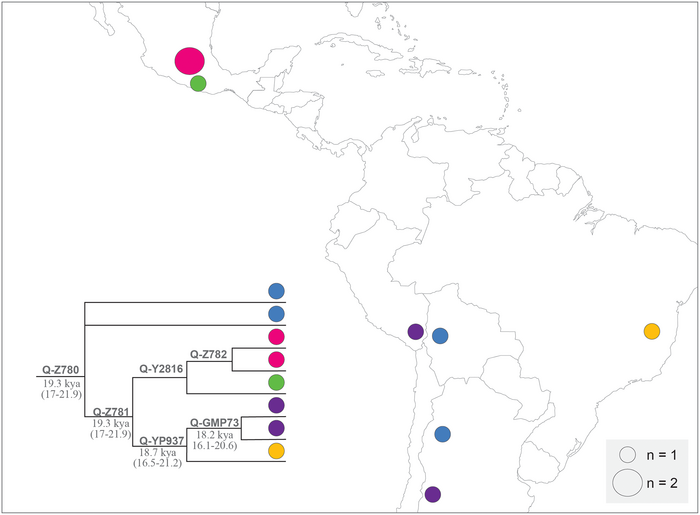 Colored circles represent geographic distribution and sub-lineage membership as shown in the inset tree. Divergence times estimated in this study are represented in italics, in kya, and with a 95% confidence interval between parentheses (for more details see Methods). The size of the circles is related to the number of subjects and is specified with the "n" in the box to the right. Individuals with Mexican ancestry from Los Angeles have been arbitrarily represented in City of Mexico. Credit: Paz Sepúlveda et al., 2022, PLOS ONE, CC-BY 4.0 (https://creativecommons.org/licenses/by/4.0/)

Researchers analyzed Y chromosome Q Haplogroup, which is a Pan-American haplogroup and represents practically all Native American lineages in Mesoamerica and South America. They built a phylogenetic tree for Q Haplogroup based on 102 whole Y chromosome sequences, of which 13 new Argentine sequences were provided and 1,072 new single nucleotide polymorphisms (SNPs) that contribute to its resolution and diversity were identified.
Q-M848 is known to be the most frequent autochthonous sub-haplogroup of the Americas. The present is the first genomic study of Q Haplogroup in which current knowledge on Q-M848 sub-lineages is contrasted with the historical, archaeological and linguistic data available. The divergence times, spatial structure and the SNPs found here as novel for Q-Z780, a less frequent sub-haplogroup autochthonous of the Americas, provide genetic support for a South American settlement before 18,000 years ago.
A bottleneck 12,800 years ago
They analyzed how environmental events that occurred during the Younger Dryas period may have affected early American immigrant lineages, and found that this event may have caused a substantial loss of lineages. This could explain the current low frequency of Q-Z780 and also perhaps of Q-F4674, a third possible sub-haplogroup autochthonous of the Americas.
These environmental events could have acted as a driving force for expansion and diversification of the Q-M848 sub-lineages, which show a spatial structure that developed during the Younger Dryas period.