I finished building my test Picosatellite!  It's a working skeleton, using the real PCB boards but without the electronics wired in.  In short, it's 'real enough'.  Were I to put in half of the $264 worth of electronics I bought at DigiKey, and toss in a BasicX chip and the 2 radio parts, it would be flyable.
But I shall not fly it.  I can do better.  In fact, I will do better.  This first build is intended to be my flight test rig.  This one, it's what I'll beat on, solder poorly, and break.  It may catch fire, if I screw upl so be it.  Rather than use the fiberglass, steel and teflon fittings from the flight kit, I grabbed my tap-and-die gear and made PVC connectors from $12 worth of generic Lowe's parts.  Clearly it's not using my portable clean room.  It's my crash test dummy satellite.
Poor dummy, my first assembly had several of the circuit boards upside down-- a good lesson.  I include a photo of this satellite, facing its natural adversary: the cat.  Oh, yes, cats and space hardware have long held antagonism.  Cats fear space, because zero gravity is the one place that "always landing on one's feet" has no meaning.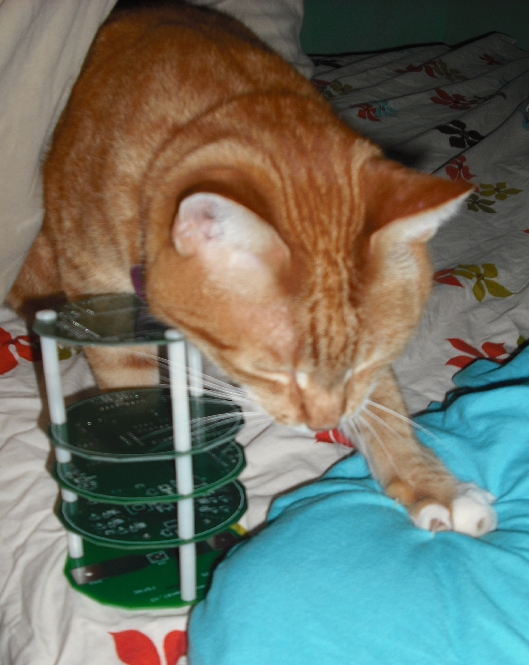 I say this could fly.  Heck, I might even book a Masten Space sub-orbital loop to test its later kin for vacuum and "shake, rattle and roll".  But ultimately, this one will always be like Ender, a 'third'.
Alex
Launching
Project Calliope
, sponsored by Science 2.0, in 2011
News every Tuesday at
The Satellite Diaries
, every Friday at the
Daytime Astronomer
Afterword: Curious how long it takes to assemble one of these suckers, once you have the pieces?  It's faster if you have good music.  Here was this afternoon's playlist while I tapped, died, and crafted.  Eruption (Eddie Van Halen orig. demo), While my Guitar Gently Weeps (Todd Rundgren), Alexander's Ragtime Band, Tea for Two (Tommy Dorsey), Cemetary Gates (Pantera), I Need to Know (Marc Anthony), Breakdown (Alan Parsons Project), Total Eclipse of the Heart (Nikki French), Lunatic Fringe (Red Rider), While My Guitar Gently Weeps (Phish), House of the Rising Sun (Eric Burden), People are People (Depeche Mode), Hell's Bells (AC/DC), Africa (Toto), Forever Young (Alphaville), Wild Thing (X), Royal Garden Blues (Tommy Dorsey), St James Infirmiry Blues (Jumbo Shrimp Band), Funky Cold/ (Tone Loc+Kylie Minogue), Why Can't I Have You (Cars), Enter Sandman (Metallica), Louie Louie (Black Flag), Chrome Sitar (T Rex), Tea for Tea (Dave Brubeck), Stay the Night (Chicago), WHere I Started From (Box of Frogs), Cradle Will Rock (Van Halen), C'est La Vie (ELP), Just a Gigolo (Louis Prima), Total Eclipse of the Heart (Bonnie Tyler), Crime of the Century (Supertramp), Hey Ya (Outkast), Diary of Horace Wimp (ELO), the Dangling Conversation (Simon&Garfunkel), Tamuna Tat (Alka Yagnik).