There's a joke "what if schools got fully funded and the military had to run a bake sale to buy their next aircraft carrier?" I'm here to tell you how to run your own Bake Sale for Science!
Except, without the baking part. Curious how to fundraise for science? I set about fundraising and, in the process, will share lessons learned. I'll also cover how much a picosatellite costs.
For the curious space fan, think about what all the big NASA missions have. Just like Project Calliope, they have rockets and hardware and really cool science. But what they have that I lack is... Mission flight patches! Flight pins! Souvenirs!
Oh, and also a network of ground radio stations to fetch their satellite data, and a web group to get that data to people who want it. The two things every mission needs, therefore, are ground stations and souvenirs.
It turns out that, for our own Project Calliope satellite, you can solve both at once. We're offering souvenirs in return for helping fund our ground station. We're calling it...
Capturing the Ionosphere: Ground Station Calliope
. Also known as "the first and best chance to shop for cool Calliope space memorabilia".
Over at that above link, you can contribute to Calliope and get the gold-lated flight pin or either of the two limited edition mission patches: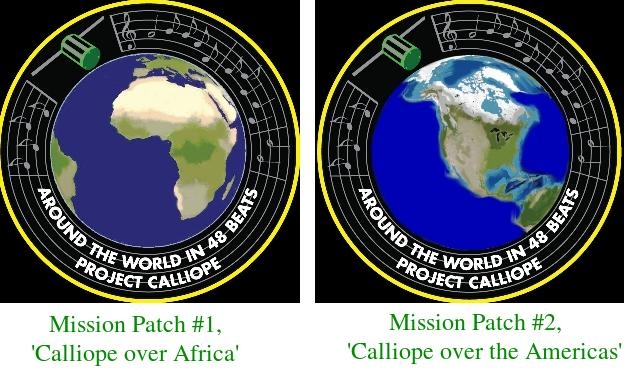 Ooh, ah! Must buy! Seriously, support Calliope by going to
our fundraiser
and contribute.
You can also help another way-- pass on the word. Tell your friends, your twitter followers, your social media buddies. Tell folks of this column or this direct web address--
http://tinyurl.com/calliopebase
-- and help me get the word out. It's not just about money, this is also the way to get people interested in the future Calliope data-- the science-y part!
All funds raised are going to support the 'data/art' end of Calliope. Between Science2.0 and myself, we've fully funded the satellite. It will launch, Interorbital-willing. We need to set up a ground station and web data distribution setup that is bullet-proof, that even musicians can use.
Actually, musicians are some of the most serious gearheads I know. I have friends who build guitar effect pedals and synths from scratch. Musicians know concepts like impedance and headroom. However, most musicians do not know satellite hardware, ham radio, or data packet formats. Hence Ground Station Calliope is to make life easier for everyone who wants Calliope data.
That means you, the reader. To maximize Calliope's return, we need better ground coverage. Rather than ask for money, I thought it'd be neat to offer space memorabilia. Regardless of how long Calliope lasts or what blows up, it'll still be the first personal music satellite Flight Pin and Mission Patches sold.
Now, some of you may think, "all fine and good, but how does that help me fund my own science venture?" Two ways, my friend, two ways. First, I'm already introducing you to a funding channel called Kickstarter that you may not have yet realized existed as as source of science funding.
Kickstarter is a project funding mechanism that reminds me of a cross between a good open air market and a PBS fund-raiser. You decide what you need to complete your project. Self-publishing a book? You might need $4,000. Filming a documentary? Try $12,000. Writing a short article? About $600 might be right. You set a goal that you need to achieve the work.
For our Ground Station, we need about $2000 in hardware. Add in the $500 or so plus postage that it'll cost to get mission patches and flight pins, plus postage, and our total fundraiser need is $2,800. So we aim for $2,8000.
Kickstart then opens up the fundraising and goes until the deadline-- for us, May 21. If you get all all your funding promised by then, it completes successfully, the donors get charged, you ship them their wonderful stuff, and everyone is happy.
If you do not reach your funding goal by the deadline-- nothing happens. Really, nothing-- donors do _not_ get charged, and you (the project) get no money. It's a pass/fail system, which is good. Their philosophy (which I agree with) is that, once you say what budget you need, you have to stick to it. Few things are more deadly to a project than being underfunded, so Kickstarter simply will not underfund a project. You miss your funding goal, then no one gets charged and the project dies.
This may sound harsh, but every reader who has run a business or venture with less than they need will understand that it's better to walk away, than to struggle by with inadequate resources. So that's the worst-case scenario.
In the context of Ground Station Calliope, what that means is, if I do not get enough readers to buy flight pins and missions patches, then two things happen. People who wanted pins and patches get nothing (but also are not charged). And, we'll have no official ground station, and rely on 'the kindness of strangers' for our data.
So that's what Kickstart is, and why we are using it. We believe that enough of you believe in Calliope, that you'll kick in for cool Calliope souvenirs. If just 100 Calliope fans contribute, we can win!
Now, what if you are doing your own science project and you want to explore this funding for yourself. Congratulations, this entire Calliope project is a proof of concept. Can we succeed in funding our Ground Station via the above Kickstarter? After the Kickstarter ends, I'll write up 'how to run a kickstarter' with lessons learned. What price levels work, what tiers for donations succeed, what timeline to use-- all of these practical details are being tested even as you read this.
I can also provide a third value to this column. If you are debating a picosatellite mission of your own, surely at some point you wondered how to get funding. Perhaps you also wondered how much funding you'll need.
A picosatellite will cost you about $15,000. Here is a rough breakdown of picosatellite costs. I've split the $8K Interorbit cost into 'hardware' and 'launch fee', based on the cost of a IOS flight spare kit ($750).
THE SATELLITE: $3,050
LAUNCH: $7,250
THE GROUND STATION: $2,400
MARKETING: $1,430
FUNDRAISING: $910


Interorbital Kit: $750
Flight spare kit: $750
PCBs: $400
iCube-X sensors: $400
Digikey electronic parts: $450
misc tools and shop gear: $300
Launch fee: $7250
Portable radio: $40
Ground-station quality radios: $2000
(alt: buying time on a network, tbd, likely also around $2000)
Web hosting: $130
Presenting at a science conference (AGU winter meeting): $1000
Talking it up at a cool local workshop (SpaceUpDC Meeting): $100
AdWords: approx. $200, paid via my Science20 ad sharing revenue
Graphic designer: $110
Pins and patches: $500 (estimated, depends on print run size)
Postage: $100-300 (estimated)
Wait! Why does fundraising cost me money? Well, once we're funded, I have to cover the cost of the actual flight merchandise we're selling. Once you factor in postage, about 1/3rd of the fundraising goes to direct costs.
You can go cheaper. You can skip conferences and meetings, skip marketing, blow off the ground station needs, ditch the idea of a flight spare, and of course refuse to sell souvenirs. That'll squeek you down to around $10K.
In the end, you get a choice of worlds. You can do a 'do it yourself' that is also 'see it yourself', a personal project. I'll continue to write up my work (and mistakes!) to make your path easier.
Alternately, you can aim high like me. I want Project Calliope to be a learning experience for others as well as a kick-ass music/science hybrid. I want anyone on Earth with a radio and a synth or computer to hear the levels of activity in our ionosphere and realize, "hey, that's how busy space is, cool!" I want to share.
And, for 44 days, I'm letting you share in the experience by getting
cool gear
. Fly. Listen. Share. That's the Calliope way.
Until next week,
Alex
Besides my ground station Calliope
fundraiser
, I also added a "Gallery" section to the newly redesigned main
projectCalliope.com
website. Enjoy!