The
Walking Dead
season finale is coming soon and nothing goes with zombie television like brains. In beer.
No, really. Dock Street in Philadelphia is introducing a
Walking Dead
beer, called "Walker", I suppose, to avoid the inevitable lawsuit. It's the brain child (their pun, not mine) of head brewer Justin Low and sales rep Sasha Certo-Ware and is billed as an American Pale Stout brewed with wheat, oats, flaked barley, organic cranberry, and Smoked Goat Brains.
I didn't even know there was such as thing as an American Pale Stout, much less that goat brains added a certain smokiness to beer. In olden days, 'stout' just meant it was more alcohol but today stout is thick and dark.
Well, it turns out there is a pale stout, chemically, just like you can make a black IPA. But how does it work? Beer experts say the flavors and color are basically related -
no color, you lose the flavor
, so if you cold steep the grains and pitch the colored water, you are still not getting the flavor because you have thrown out the starch, protein, or sugars. Thus, you may have a Pale Stout but that doesn't make it good. The goat brains may be helping there, just like spices can make up for the lack of caramelized sugars and lack of actual roasted nuttiness if you don't use the grains that give it the color.
Not sure, are there beer-making chemists in the audience? Bluegrass Brewing
has made a White Porter
, which they call Melby Dick ("Call me Ishmael. An original experimental beer from BBC" - brewers are steeped in cultural lore) but I have never tried one. (1)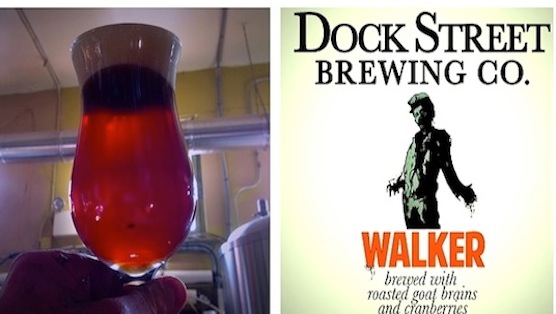 Credit:
Dock Street Brewing Co
. Link:
Paste
Here's the spec: "Dock Street Walker (7.2% ABV) is an American Pale Stout, brewed with substantial amounts of malted wheat, oats, and flaked barley for a smooth, creamy mouthfeel. Fuggle hops provide delicate, earthy notes, while the cranberries create a sinister, bloody hue, and a slight tartness. The pre-sparge-brain-addition provides this beer with intriguing, subtle smoke notes. In true walker fashion, don't be surprised if its head doesn't hang around forever."
Unlike black guys on the show, presumably you can have two beers at the same time.
They also write...
"Growlers will be available for those who'd rather drink their brains out at home. Eff the Governor."
...which is a reference to the show but perhaps reveals something of a libertarian streak too. In Florida, it certainly seems to be taking hold among crafter brewers who have grown substantially as employers but aren't getting any love from politicians. State law says craft breweries can sell their beer in gallon jugs or quart-sized growlers - but the most popular size in 47 other states, which is half-gallon-sized growlers,
and that even the most supposedly free market Republicans won't endorse
. Why? Not saying you should always 'follow the money', we have seen how dumb that is in science, but it seems Anheuser-Busch is a big donor, some $300,000, with beer distributors kicking over another $1 million...to
both
parties. So if you don't want to lug around 8 lbs. of microbrew, vote Independent.
Walker Date/Time/Location - March 30th at 7 PM, 701 South 50th Street ,West Philly, PA 19143 - go drink your brains out.
NOTE:
(1)
Beer Advocate
has the following recipe:
Reclamation White/Mocha Stout
5.5 gallons at 1.078 OG, 57/30 IBUs
14 lb Maris Otter
1 lb Flaked Oats
1 lb Flaked Barley
0.5 lb Crystal 40L
Mash at 154 for 60 minutes
1.0/0.5 oz Magnum 14% AA at 60 minutes
1.0/0 oz Crystal 3.5% AA at 10 minutes
For the mocha version:
3 oz cacao extract or 2oz cacao nibs soaked in 6 oz vodka for 4 days, strain, freeze, and remove fat cap
1 pint cold-brewed coffee extract or 1 cup ground coffee soaked overnight in 3 cups water