It's been known for quite some time that Fido and Spot can lower levels of stress in their owners. Studies by Karen Allen, a professor in neurology at the University of Buffalo, have shown that "the presence of a pet dog can diminish stress responses to real-life daily stress over which caregivers have no control." Owning a pet dog can lower blood pressure, can play a therapeutic role in confronting disability or injury, and can actually lower stress even more than your BFF—unless, of course, that BFF is also a dog. Now,
research that will be presented in Tokyo on August 30th
at the International Congress of Behavioral Medicine shows that chewing gum may also help to reduce stress.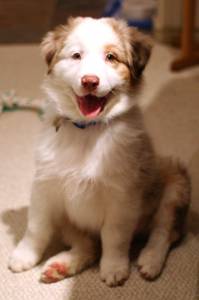 "If gum is good, and dogs are good...what if I let my DOG chew GUM!"
A team led by Andrew Scholey, a professor of Behavioral and Brain Sciences at Swinburne University in Australia, led the research that shows that chewing gum improves alertness and performance on multi-tasking activities, helps to relieve anxiety, and reduces stress among individuals in a laboratory setting. Scholey's study, funded by Wrigley Chewing Gum, measured anxiety, alertness and stress levels before and after participants completed a stressful task. When chewing gum, participants showed a reduction in anxiety as compared to non-gum chewers by nearly 17 percent during mild stress and nearly 10 percent in moderate stress; gum chewers showed improvement in alertness over non-gum chewers by nearly 19 percent during mild stress and 8 percent in moderate stress; and levels of salivary cortisol (a physiological marker of stress) in gum chewers were lower than those of non-gum chewers by 16 percent during mild stress and nearly 12 percent in moderate stress. Before you start wondering, 'if gum is good, and dogs are good…what if I let my
dog
chew
gum
,' here's a little GUM 101 from Wrigley:
"Although chewing gum products are not intended for use by dogs, cats or other pets, the American Veterinary Medical Association (AVMA) has reported that xylitol—[an ingredient safe for people in some of Wrigley's chewing gum]—may be toxic for dogs."
Sorry, but you can't "double your pleasure" by giving Fido a pack of the long lasting mint sensation. If you have any other burning questions, like, "How can I be a Doublemint twin?" read on—but first, a little more GUM 101: People have been chewing on things like thickened resin, sweet grasses, leaves, grains, waxes, and latex made from certain types of trees for hundreds of years. Modern gum products evolved from a chicle-based gum brought to the United States in the early 1860s.
"If you still think you have a serious interest in becoming a Doublemint twin...think about getting a dog, because you probably have a lot of anxiety."
Chicle, derived from the milky juice (latex) of the sapodilla tree that grows in tropical rain forests of Central America, is natural but much too rare to feed America's craving for 170 sticks of gum per person per year. Today, most gum is made from synthetic latex. And, if you've read this far, it can only mean one thing: you want to be a Doublemint twin. Don't get your hopes down, but according to Wrigley, "it's
very
hard to become a Doublemint twin." Every year, their advertising agency gets thousands of letters and pictures from twins who want to be featured in their commercials. But if you
still
think you have a serious interest in becoming a Doublemint twin—and who doesn't—do two things: 1) think about getting a dog, because you probably have a lot of anxiety, and 2) contact the agency at: BBDO/Chicago 410 North Michigan Avenue Chicago, Illinois 60611