News that Sydney Swans star Lance "Buddy" Franklin, arguably the biggest name in the Australian Football League (AFL), is experiencing a mental health condition has garnered a lot of media attention. His story highlights not only the persistent stigma surrounding mental illness, but the potential of sport to help tackle it.
Revelations about Franklin's mental ill-health should come as no surprise, given that almost half the population experiences a mental health issue at some point in their lives, at an estimated cost of A$28 billion a year. Why, then, do we find it so hard to talk about something that's so prevalent?
More and more
Franklin is not the first high-profile athlete to reveal a struggle with mental illness. English cricketer Jonathan Trott withdrew from the 2013-14 Ashes campaign citing poor mental health. American footballer Brandon Marshall from the New York Jets has made it his mission since 2011 to break the taboo associated with mental illness, openly discussing his experience with borderline personality disorder.
Closer to home, AFL player Mitch Clark's battle with depression has received national coverage, including his bold appeal to others to reach out.
While these are all positive individual steps, they also highlight the stigma that surrounds mental illness (why raise awareness if something is entirely acceptable to society already?). And they show how our sporting culture and elite sports organizations are uniquely placed to break down this stigma.
The problem is that the culture of sport and, more broadly, notions of Australian masculinity strongly contribute to the stigma surrounding mental illness. They both encourage a "harden up" culture, creating an expectation that people should be able to maintain emotional stability in the face of adversity.
Parallels can be drawn with the "get on with it" approach among first-responders (emergency services). This is the idea that emergency service personnel have a job to do and should ignore the potentially serious psychological impact of their day-to-day work. In an effort to reduce the risk of psychological injury among emergency response crews, organizations such as Behind the Seen are providing workshops to increase awareness of and promote help-seeking behavior among first-responders.
Current efforts
But that's not to say that sporting organizations aren't making an effort to positively influence the national discourse on mental illness.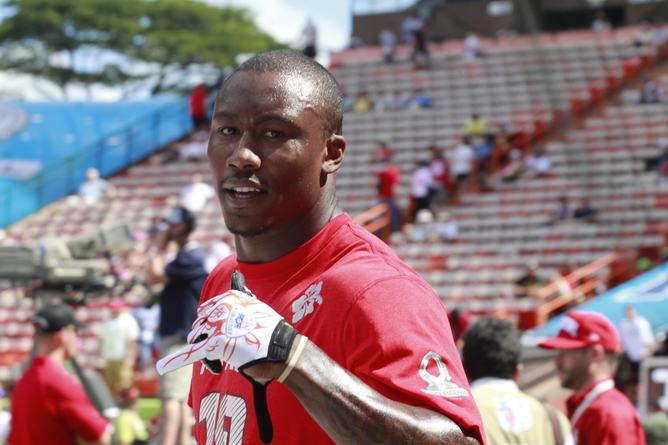 By Cpl Jody Lee Smith [Public domain], via Wikimedia Commons, CC BY
The Beyond Blue Cup, now an annual event in the Beyond Blue National Roadshow, is a prime example of the potential for sport to promote awareness and reduce stigma at a national level. This match is played in the major football codes (AFL, NRL and A-League) while raising money and awareness for mental health services.
In the United Kingdom, sporting bodies have teamed up with the deputy prime minister and committed to removing the stigma and prejudice around mental health from the "pitch to the playground" (#SportMinds). These organizations have agreed to promote well-being and good mental health policies and to tackle discrimination on the grounds of mental health.
On a smaller scale, a group of surfers from Sydney's Bondi Beach formed a not-for-profit organization called OneWave to tackle stigma through surfing, while wearing fluorescent clothes, to stimulate discussion of mental health among surfers and other beach users.
A vehicle for change
Using sport as a vehicle to de-stigmatize social issues is not a new phenomenon. The United Nations Office of Sport for Development and Peace has long advocated sports to promote social inclusion of stigmatized and marginalized groups. But sport programs that target mental illness appear to be an exception. Discussing mental illness continues to be taboo across many cultures.
The evidence supporting the role of sport in promoting mental health in marginalized groups, such as homeless people and children affected by war, is only just emerging. So despite growing support for the potential of sport to address stigma in mental illness, more work is clearly needed.
Franklin's story is an opportunity to de-stigmatize mental illness among one of the "toughest" audiences. By publicly embracing one of its stars, the AFL is helping to normalize the experience of mental illness, pushing back against perceptions that it reflects some kind of weakness.
In a country that prides itself on international prowess on the sporting field, de-stigmatizing mental illness through the stories of sporting heroes is a powerful way of starting a conversation. Community perceptions can change with greater awareness that no one is too tough or immune.

Justin Richards, Post-Doctoral Research Fellow, University of Sydney; Philip Ward, Associate Professor, Psychiatry, UNSW Australia, and Simon Rosenbaum, Post-doctoral Fellow, UNSW Australia. This article was originally published on The Conversation. Read the original article.