President Trump says he came to Washington to "drain the swamp," and now his administration is looking for wasteful programs to cut. A great start would be pulling the plug on numerous federal "research" programs that, frankly, have been captured by Washington special interests.
In fact, much of taxpayer-funded research serves ideological agendas—especially environmental activism—at the expensive of legitimate scientific inquiry. Consider a few examples.
Housed within the National Institutes of Health (NIH) is one of the most activist governmental entities: the National Institute of Environmental Health Sciences (NIEHS). Unlike medical research focused on finding cures for diseases and cancer, NIEHS studies phantom risks associated with trace chemical exposures, with a strong bias against private enterprise and chemical technologies.
A glaring example is NIEHS's program related to the chemical Bisphenol A (BPA), which is used to make hard, clear plastics and resins that line food cans to prevent rust and the development of pathogens in food. Used safely for decades, BPA has been studied extensively by numerous research bodies around the world, which have deemed current uses safe. And it has enormous value in securing a safe food supply and improving public health thanks to its use in medical devices, among other things.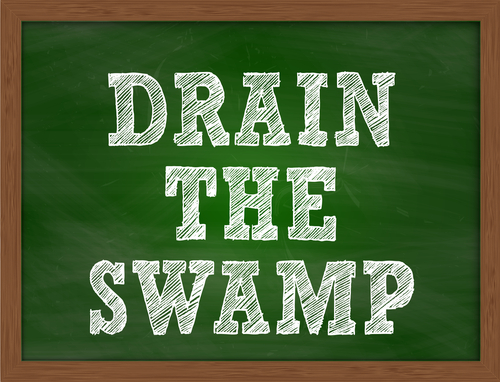 Image credit: Shutterstock
Yet during the past couple of decades, activist groups have targeted BPA, alleging a host of health risks based on small, often poorly designed and inconclusive studies that report weak associations between BPA and various health problems. Because activists were able to generate alarming headlines, Congress poured millions of dollars into research. The NIH doled out $172.7 million for BPA research grants between 2000 and 2014, according to a tally compiled by Citizens against Government Waste.
NIESH funneled much of that money to support activist science. In fact, NIEHS helped orchestrate a campaign to direct research dollars to anti-BPA researchers by cosponsoring a conference in 2007 with other government agencies and the left-of-center group Commonweal. Researchers met in Chapel Hill, N.C., where they developed what became known as the "Chapel Hill Consensus Statement," which called for more funding of BPA research because participants claimed BPA likely posed serious health risks. Among the attendees was then-EPA employee Linda Birnbaum, who was appointed as the NIESH director in 2009.
Although organized and attended by a self-selected group of mostly anti-BPA activists, the participants marketed the meeting as an independent scientific review that demonstrated the need for more BPA research. Birnbaum noted in a December 2012 article for Environmental Health Perspectives that the "impetus" for NIEHS's extensive BPA research funding was this "workshop" involving 38 "experts" in BPA science. Notably, more than half of the Chapel Hill Consensus contributors have received NIEHS grants to study BPA.
Many NIEHS research BPA grants have produced more small-scale studies with generally weak findings that weigh little when considering the larger body of research. And many of the authors refuse to follow good laboratory practices to ensure quality controls and transparency. Not surprisingly, these studies have generated more needlessly alarming headlines about alleged BPA risks, causing manufacturers to look for BPA alternatives and prompting lawmakers to introduce legislation to ban the chemical. As a result, the valuable life-saving and life-enhancing applications of BPA could be at risk as a result of NIESH-funded junk science promoting heavy-handed BPA regulation and market deselection.
Another program suitable for the scrap heap is the Environmental Protection Agency (EPA) Integrated Risk Information System (IRIS), part of the agency's $750 million Science and Technology budget. Housed within the EPA's Office of Research and Development, IRIS produces chemical risk assessments to identify potential health hazards that other agency programs use to set standards for drinking water, hazardous waste cleanups and air quality.
Reforming how IRIS conducts its business was a topic of discussion at recent congressional hearings to "Make EPA Great Again," but the IRIS program has never been great. IRIS has consistently failed to meet even the most basic scientific standards. It tends to exaggerate chemical risks to increase the agency's regulatory power, needlessly raising the costs of regulations based on these assessments.
For nearly a decade, congressional oversight committees, the Government Accountability Office and the National Research Council (NRC) have all urged the EPA to reform IRIS to address serious scientific and procedural deficiencies. A 2011 NRC review of the IRIS assessment for formaldehyde noted "recurring methodologic problems" that were "similar to those which have been reported over the last decade by other NRC committees." It also noted that the assessment included "[p]roblems with clarity and transparency of the methods" that "appear to be a repeating theme over the years." The committee provided advice on ways to reform the system, but problems persist.
The Trump EPA should eliminate IRIS, which could be done administratively, since the agency created the program in 1985 without any congressional mandate. Now is a good time to act. Last year Congress passed and President Obama signed a law reforming the Toxic Substances Control Act (TSCA), which means necessary chemical research should be performed within the TSCA program and the scientific guidelines Congress established under that law.
Another counterproductive program that belongs on the chopping block is the EPA's Safer Choice program (formerly called Design for the Environment). Like IRIS, Safer Choice is a non-regulatory program that has significant public policy and marketplace impacts. It calls on companies to eliminate certain chemicals from their products voluntarily, largely based on hazard rather than actual risk. "Hazard" represents the potential for danger given specific circumstances or exposures. For example, water is hazardous because excessive consumption can produce fatal "water intoxication" or hyponatremia. But we don't need to ban or "voluntarily" phase out water.
Accordingly, Safer Choice pressures companies to phase out chemicals for no good reason, leading to expensive product reformulations that may produce less effective products.
The president and Congress should seize the opportunity to dismantle this quagmire of government-funded activist science. Not only are these programs a waste of taxpayer dollars, they can drive policy debates and produce costly and unhelpful regulations that hinder economic growth and human well-being.