Academics have been examining Barbie® for more than a decade now.
One of the first to do so was senior professor Albert Magro of Fairmont State University, who, in 1997 presented his paper
'Why Barbie is perceived as beautiful.'
(
Perceptual and Motor Skills
, 85, 363-374) His experimental examination of evaluations involving 495 individuals came to the conclusion that Barbie® had the following attributes -
A dome shaped cranium, high forehead, large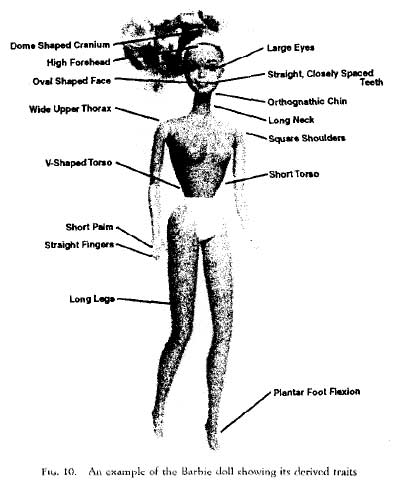 eyes, an oval shaped face, straight closely spaced teeth, an orthognathic chin, a long neck, a wide upper thorax, square shoulders, a v-shaped short torso, short palms, straight fingers, long legs and plantar foot flexion.
Leading to the observation that :
"The Barbie doll is illustrative of how human beauty has evolved and indicates elements of human form that appear beautiful."
Since then, Barbie® has featured in several other scholarly studies … one of the latest in the form of a thesis from Alessandra Gaudio at Fordham University.
Beauty and the Barbie Doll: When Life Imitates Plastic (2011)
(
American Studies Senior Theses
. Paper 5.)
The conclusion of which hints at the as-yet-not-fully-resolved nature of Barbie-based studies, and perhaps, by implication, at opportunities for further academic explorations.
"Modern women find themselves needing to fit into a myriad of different molds, just as Barbie has over the years, resulting in a need to negotiate the superficial and substantive aspects of their character in order to successfully adapt to each new niche. Unfortunately my project cannot come to any definite conclusions about a resolution to this ongoing battle that women have been fighting with the Barbie."
BONUS: '
Designer Barbies
' (retail outlet cited in the thesis).