"The modern drive towards mobility and wireless devices is motivating intensive research in energy harvesting technologies."
say two research fellows at Cranfield University in the UK, who are currently examining the question – 'Why not harvest energy from people's knees?'
Building on their previous research into plucked piezoelectric bimorphs for energy harvesting applications,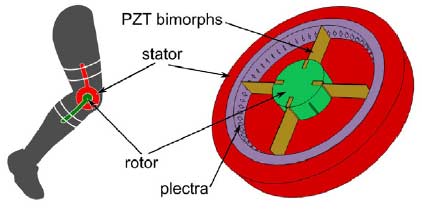 Dr. Michele Pozzi and Dr. Meiling Zhu from the Department of Materials, School of Applied Sciences, at Cranfield present
a new practical knee-driven application
in the journal
Smart Materials and Structures
, Vol. 20, #5 (May 2011). Their piezoelectric knee-joint harvester is worn on the external side of the knee and fixed by braces. Inside, a hub carries a number of bimorphs which are plucked by ring-mounted plectra as the joint rotates during normal walking.
It is hoped that the device might one day allow electronic gadgets – such as MP3 players or even mobile phones – to stay permanently charged, (providing of course that the owner's knees remain reasonably animated).
"The only apparent limitations of the device are its mechanical complexity and the considerable mass of 790 g (1.6 kg including braces)."
say the authors.*
*Roughly approximate to the weight of eight cellphone batteries.