A growing body of scientific studies have examined the implications of
finger length ratios
. But until recently up to 50% of humanoid distal appendages may have been largely overlooked – for what of toe-length ratios?
Progress towards rectifying this digital imbalance has been made with a recent study from the Department of Psychology, Penn State University, Harrisburg, US. Professor
Marissa Harrison
has published one of the very few studies to investigate :
AN EXPLORATORY STUDY OF THE RELATIONSHIP BETWEEN SECOND TOE LENGTH AND ANDROGEN LINKED BEHAVIORS
(
Proceedings of the 4th Annual Meeting of the NorthEastern Evolutionary Psychology Society
)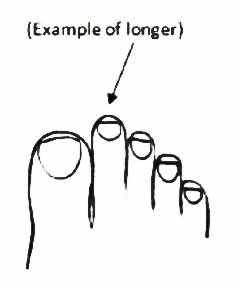 The toes of 107 college students were (self)-examined.
The participants filled in questionnaires regarding not only the length of their second toes (as compared to their other eight) but also provided details of their (self)-perceived competitiveness, sociosexual orientation, and other traits.
Results showed that a longer second toe was related to :
● Left-handedness (for both males and females)
● Competitiveness (females only)
● Exercise frequency (males only)
● Second toe length had no links, however, to sociosexual orientation (either in males nor females)
The author summarizes the current findings and the prospects for further research thus:
"In conclusion, this study revealed connections between second toe length and androgenized behaviors/traits for women more so than for men. The results of this self report-based pilot investigation do suggest that there is a phenomenon of interest here for future, technologically-sound measures to elucidate."