The Mississippi Floods
One of the greatest strengths of science is its power to make accurate predictions. Science predicted correctly that global warming would be caused by excessive burning of fossil fuels. Science predicted - again correctly - that global warming would lead to higher incidence of extreme climate events. This year, in February, climate experts using computer models
predicted
flooding in the USA. That predicted flooding is happening as I write these words. Water levels along the Mississippi are breaking record after record. The water levels are so high as to necessitate
deliberate levee breaches
to flood farmland rather than towns.
When floods caused devastation along the
Mississippi watershed
in 1927, American politicians didn't drag their heels. Following the
Great Mississippi Flood of 1927
the
Flood Control Act
passed into law in 1928. Although the current flooding is causing severe problems for Americans, they can be thankful that their politicians of former years acted swiftly so that the Corps of Engineers could reduce the potential of the mighty Mississippi to cause damage.
People in the Mississippi watershed are currently being affected by the rising lake and river levels that follow from extreme precipitation events. In this era of rapid communications, people in places endangered by rising waters are fortunate enough to be given substantial advance warning. Modern communications, satellites, disaster mitigation and response efforts and many other factors contribute to reducing the impacts of disasters. People living in flood-prone areas can now get up-to-date information about water levels and risks so that they can make informed choices between mitigation and evacuation. Thankfully the days are long gone when waters would wipe out communities with no forewarning. That is the ultimate utility of science: it saves lives.
Snippets from the media:
The Mississippi River continues to rise at such speed that the Army Corps of Engineers is seriously considering opening the Morganza Spillway above Baton Rouge for the first time in 38 years.
http://www.nola.com/opinions/...

One risk, scientists cautioned, is fertilizer runoff from the flooded farm country along the Mississippi. As it moves downstream, they predicted it would contribute to the largest-ever summertime depletion of oxygen in the Gulf of Mexico, posing a substantial risk to marine life.
http://online.wsj.com/...

Mississippi Gov. Haley Barbour said the combination of heavy rains from the violent storms that have hit Mississippi and high water levels on the Mississippi River could produce a flood that will be "monumental" in the annals of his state.
http://deltafarmpress.com/...
Perhaps Katrina, last week's tornadoes and current flooding may ignite a conversation about how we live with our environment.
http://dotearth.blogs.nytimes.com/2011/05/04/more-on-tornadoes-floods-climate-and-risk/

Official flood information sources: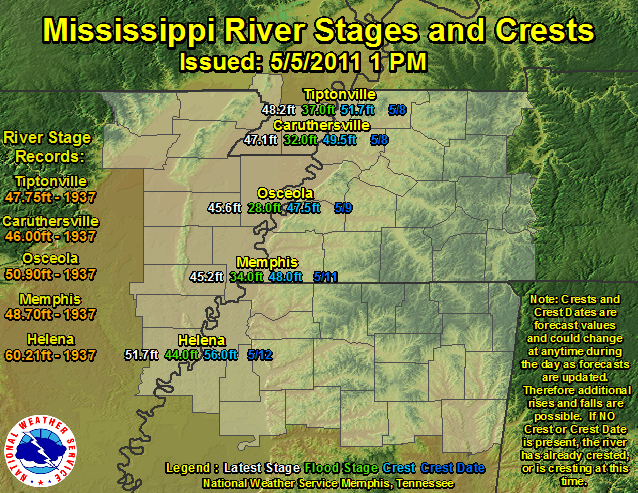 The National Weather Service Memphis TN has posted the above image and information at the One Stop Flood Resources page.
http://www.srh.noaa.gov/meg/?n=floodonestop
US Army Corps of Engineers news releases:
http://www.mvm.usace.army.mil/publicaffairs/News/press_releases/bpnm/BPNM_pressrelease.asp
I would be grateful if any of my readers can post links to other sources of accurate and current information for the benefit of people in affected areas.