Mung bean protein, canola oil, onion puree and turmeric - it's what's for breakfast. Maybe.
Fake versions of foods are all the rage but egg farmers who survived the Vegg ("nutritional yeast flakes, Sodium alginate, Kala Namak, beta-carotene") can't rest easy just yet. Joining any number of eggless egg substitute concoctions, Just Egg is rolling out in 2,100 Kroger stores nationwide.
Unlike most others, which are just used as a leavening agent or a binder so egg is substituted by xantham gum or tofu or some other chemical and isn't really for cooking, three tablespoons of Just Egg is touted to be just like a regular egg and can be used for an omelet or scramble.
So if you don't want to eat liquid chicken, you can eat whatever this is instead.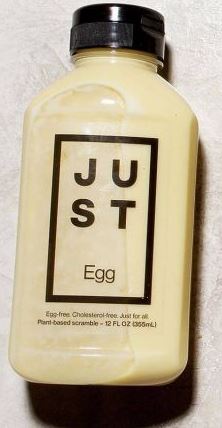 Just Egg is a smart name because they can claim it connotes Justice, as in more ethical, and avoid the problems Just Mayo had in claiming to be real mayonnaise.