Instead of blogging, I've been gardening (for a living) and cultivating a scientific interest in weeds.

I hadn't given much thought to
weed science
as a separate field of Crop and Soil Sciences. Of course, weed scientists study
unwanted
or
invasive
plants and ways to kill or
tame
them, among other things.
But I have grown fascinated with weeds as nutritious and medicinal foods, and as otherwise
beneficial
garden or wild plant companions.
I understand the
harm potential
(PDF) of invasive weeds and note happily that many weeds grow in my zone naturally. While I help eradicate invaders, such as garlic mustard, I will search for and try appealing
recipes
.
I am not planning to prepare supper of
thistles
, but I re-planted several, just for the sake of their beauty, into a pot in my ad hoc (for the fun of it) rock garden.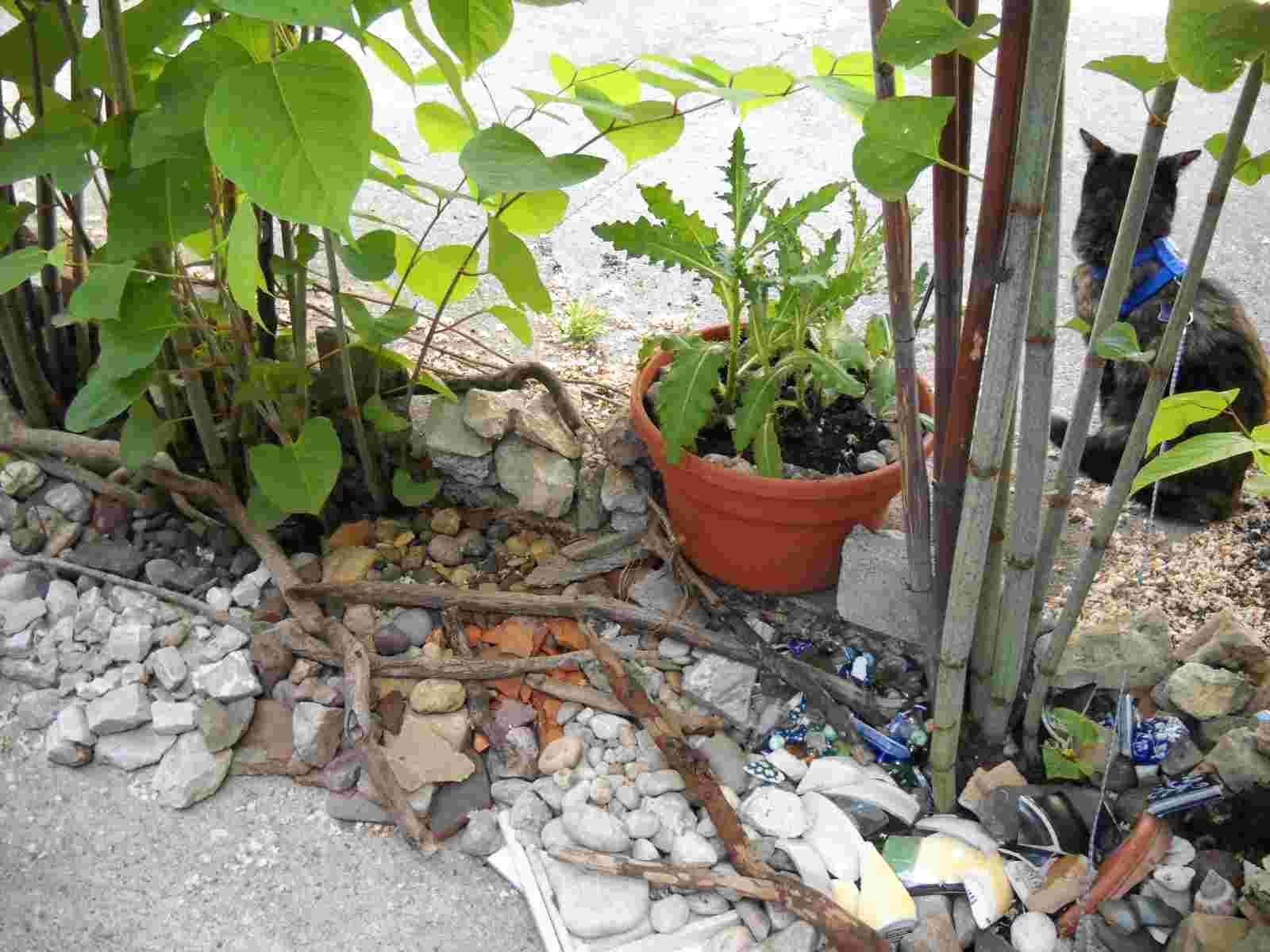 Image: The Tortoise Cat, the Polygonum (
Japanese Knotweed
) and Thistle pot in the rock garden in back of our place
Today I found these links for weed-lovers:
Edible Weeds
(PDF) by Bobbi Gustafson and Corrina Marote of the Washington State University Extension; the
Doc Weed's Doin's
blog (not updated recently, but a good read);
If You Can't Beat 'Em, Eat 'Em!
by Aaron Munzer in the Daily Green;
Edible Weeds - Don't Kill The Weeds In Your Yard, Eat Them!
by Andrea at the FunTimesGuide.com;
Free Food in Your Yard: Edible Weeds!
by Andrea Dickson at WiseBread.com; and
Wonderful World of Weeds
by Lynn Smythe at OldFashionedLiving.com.
How do you like your weeds?