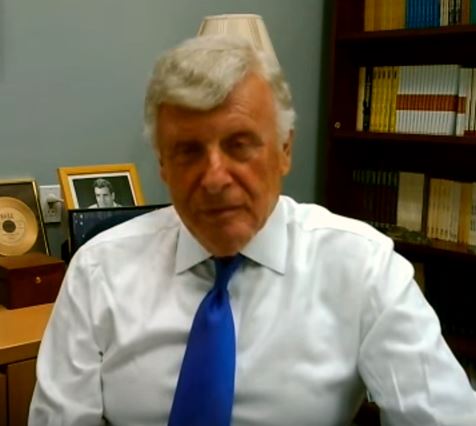 In late 2014 I came downstairs from my home office and said to my wife, "Herb London just left me a message."
"Is he any relation to Stacy London?" she asked in her offhand humor way. Well, yeah, she is his daughter, if you are from California, but if you are of my generation and from anywhere near the orbit of New York, you know who Herb London is. And Herb London was getting a return phone call.
When I told him that story in 2015, he beamed. He loved talking about his daughters and he really loved that he had become second fiddle to their accomplishments. He was a literate, thoughtful man, a keen thinker, but when he talked about his family his demeanor changed. This strapping fellow who had been drafted into the NBA, was a musician who had charted in 1959 with "Sorry We're Not Going Steady," and could go toe-to-toe with anyone on Western civilization, transformed into a gushing father at the mention of their names.
He had called me in 2014 because he was a Trustee for the American Council on Science and Health, a pro-science consumer advocacy group founded in June of 1978, and since the founder, Dr. Beth Whelan, had passed away they were looking for a successor. Partly because of his involvement and partly because of his insistence, I became the second President of ACSH in June of 2015. Having a President for 34 years is a rarity, and since my family and I live in California we agreed on a three-year three-year tour of duty, which gave us time to find a long-term successor. This past February Herb called me to apologize for missing our Board meeting due to treatments for his illness. He said he understood if I wanted to remove him from the Board in order to find someone more active and I replied, no, I want you to die in that chair...just not for a long time.
Certainly not this soon.
In the last email exchange we had a few months ago, I told the board I wanted to lower my salary. A small non-profit has to think about perception and while my salary was a fraction of the two people who I replaced, I was doing a job I would do for free, if I had the money to do so. Though revenue had gone up, we were also still losing money, and I had to think about what foundations saw on an application.
I know the idea that I would pay myself less than I was worth was anathema to him, but his reply was, "It's your choice."
And that made complete sense because freedom and individual initiative, choice, including the right to do something for less, was what he stood for. He might not respect a particular choice, he might even combat it, but he would be even more opposed to limitations without a clear benefit. And in our discussions during those three years he always made me a better thinker, which was his greatest gift to me.
I'm going to miss you, Dr. London, but heaven needs social critics too. Godspeed.