Phytase research is helping to clean up the waterways in Delaware.
According to recent analyses by David Hansen, University of Delaware assistant professor of soil and environmental quality, there are now about 19 pounds of phosphorus in a ton of Delaware poultry litter compared to 25 to 30 pounds of phosphorus per ton of litter just five years ago. The 30-40 percent reduction is credited to phytase-modified diets and other nutrient management practices adopted by poultry farmers under Delaware's Nutrient Management Law of 1999. That reduction means that the phosphorus load to the environment has been reduced by some 2 million to 3 million pounds per year.
William Saylor, professor of animal and food sciences at the University of Delaware, has confirmed that Delaware chickens now digest more of the phosphorus, an essential nutrient, thanks to phytase. As a result, about 23 percent less phosphorus is output in chicken manure.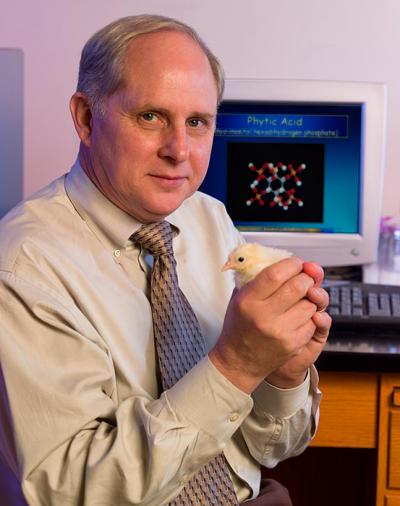 Extensive research led by William Saylor, UD professor of animal and food sciences, has confirmed that Delaware chickens now digest more of the phosphorus, an essential nutrient, in their feed, thanks to the addition of phytase, a natural enzyme. Credit: Kathy F. Atkinson/University of Delaware
That's an important reduction since Delaware farmers produced over 269 million broiler chickens - 1.8 billion pounds of poultry - valued at more than $739 million in the last 18 months, according to the Delmarva Poultry Industry. Those chickens produced more than 280,000 tons of waste.
"Phosphorus is essential to all life," Saylor said. "Livestock, particularly poultry and swine, are fed a diet of seeds and grains. However, two-thirds of the phosphorus in this food is phytic acid or phytate, which is a form of phosphorus that poultry and pigs can't digest, so it goes right through them," he noted.
"Phytase is an enzyme that is added to poultry feed at the mill that helps broilers and other poultry utilize more indigestible phosphorus," Saylor said.
Over the past several years, Saylor and colleague J. Thomas Sims, the Thomas A. Baker Professor of Plant and Soil Sciences and associate dean of UD's College of Agriculture and Natural Resources, have led a team of experts in analyzing the nutritional requirements of poultry and swine and the effects of phytase-modified diets on the livestock and the environment as part of a "feed-to-field" approach to nutrient management. The research was funded by an $821,000 grant from the U.S. Department of Agriculture's Initiatives for Future Agriculture and Food Systems.
The scientific team included poultry nutritionists Roselina Angel from the University of Maryland and Todd Applegate from Purdue University; and Wendy Powers, a swine nutritionist who formerly was at Iowa State University and now is at Michigan State University.
At UD, Saylor and his students formulated various phytase-modified diets for a series of studies involving thousands of broiler chickens. The birds were examined for bone health and growth, as well as the phosphorus content of their manure, beginning as chicks up to market-size birds.
The painstaking research defined the boundary at which the total phosphorus levels in a broiler chicken's corn-soybean meal diet can be reduced without detriment to the birds' health, as well as the percentage of phytase that can be added to the feed to allow the birds to digest more phosphorus, leaving less to literally "go to waste."
The data have been shared with a nutrient management partnership involving the poultry industry, environmental regulators and the academic community.
Source: University of Delaware