Indonesia's Mount Gamkonora volcano is spewing hot ash and smoke into the air, as seen in this image taken by the MERIS instrument aboard ESA's satellite Envisat, causing more than 8000 people to be evacuated amid fears of an imminent eruption, according to officials.
Officials raised the alert to the highest level on Tuesday after the volcano, located in the eastern province of North Maluku, started spitting out flaming material, indicating magma was approaching the crater's surface making an eruption more likely, Saut Simatupang of Indonesia's Vulcanological Survey told Reuters news agency.
The 1635m volcano, located about 2400 km northeast of Jakarta, began releasing smoke and ash on Saturday and spewed it as high as 4000m on Monday. Mount Gamkonora is the highest peak on Halmahera Island.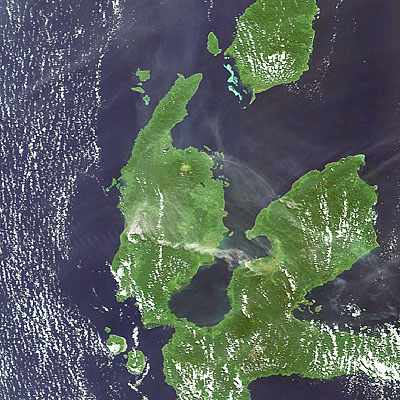 Envisat captured Indonesia's Mount Gamkonora volcano, spewing hot ash and smoke into the air, in this image taken on 9 July 2007 by its MERIS instrument. Credits: ESA
Indonesia is located within the Pacific 'Ring of Fire', a continuous line (40 000 km long) of volcanoes and fault lines circling the edges of the Pacific Ocean, and has more than a hundred active volcanoes within its territory.
The majority of the 1500 active volcanoes on the Earth's surface, of which around 50 erupt each year, are located along the Pacific 'Ring of Fire'. At least 500 million people live close to an active volcano.
As world population increases, so does the potential threat from every eruption. Although there is no way ground-based monitoring can be carried out on all volcanoes across the globe, space-based monitoring helps identify the volcanoes presenting the greatest danger.
Satellite radar, such as that aboard Envisat and ERS-2, allows scientists to track small changes in the Earth's movement that improves their ability to predict volcanic eruptions. Synthetic Aperture Radar Interferometry, InSAR for short, involves mathematically combining different radar images, acquired from as near as possible to the same point in space at different times, to create digital elevation models and reveal otherwise undetectable changes occurring between image acquisitions.

Thick plumes of ash is spewed from Mount Gamkonora in Halmahera island, in North Maluku, on 9 July 2007. Credits: AFP - Erwin
Combined radar and optical data acquired from space are also very useful when an eruption begins. The synoptic view taken from optical and radar instruments aboard Envisat can simultaneously show the ash plume, the ash falling area, the lava streams and the volcanic cone shrinkage or expansion. Atmospheric sensors are used to identify the gases and aerosols released by the eruption, and quantify their wider environmental impact.
Having access to these data over long periods of time is important for scientists to identify and analyse long-term trends and changes. ESA now has a 16-year archive of homogenous data thanks to the continuity of satellites ERS-1, ERS-2 and Envisat. Envisat and ERS-2, with a difference in overpass time of 30 minutes, are continually adding to the archive.
Source: ESA