Envisat satellite image captures fierce easterly desert winds blowing smoke from wildfires in Southern California. Gale-force winds have fed more than a dozen fires from Santa Barbara to the Mexican border since breaking out on Sunday, killing one person and forcing the evacuation of a quarter of a million people.
In the full image below, sand is visible being blown from Mexico's Baja California Peninsula over the Gulf of California to the east and the Pacific Ocean to the west.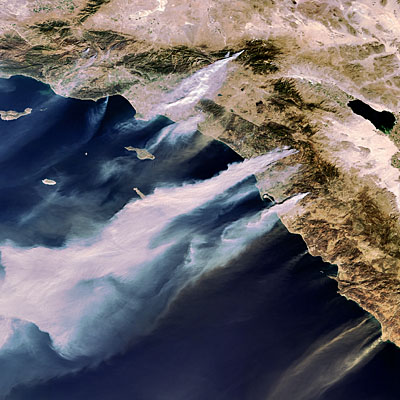 CLICK ABOVE FOR HIGH RESOLUTION.
Acquired 22 October 2007 at 17:52 UTC by the MERIS (Medium Resolution Imaging Spectrometer) instrument aboard ESA's Envisat satellite while working in Full Resolution mode to provide a spatial resolution of 300 metres. MERIS images are available on ESA's MIRAVI website, which gives access to Envisat's most recently acquired images. Credits: ESA.
MIRAVI, short for MERIS Images RApid VIsualisation, tracks Envisat around the globe, generates images from the raw data collected by MERIS and provides them online within two hours.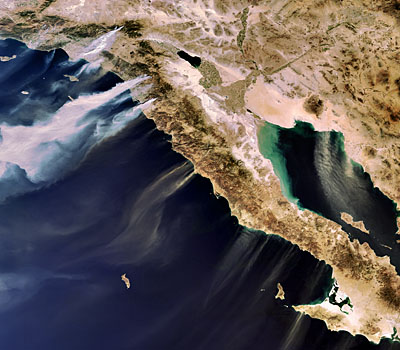 CLICK ABOVE FOR HIGH RESOLUTION