If you want to be sure you, or your child, is optimizing the chances for safety while playing hockey, one helmet stands alone.
The Department of Biomedical Engineering and Mechanics at Virginia Tech bought 32 helmets and tested each helmet in four directions at three energy levels twice -- a total 48 tests per model. The entire evaluation process included more than 2,000 impact tests done both on an ice rink and inside a laboratory at the Institute of Critical Technology and Applied Science at Virginia Tech.
Reebok, Bauer CCM, and Eaton were not supreme, the Warrior Krown 360 was the only protector to get 3 stars. 6 helmets earned 2 stars, 16 helmets got 2 star, and 9 had 0 stars. The group created the STAR (short for Summation of Tests for the Analysis of Risk) Evaluation System exclusively for hockey helmets.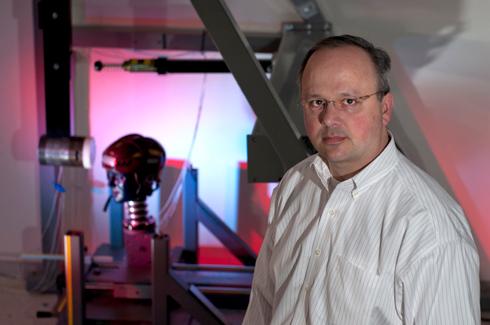 Stefan Duma. Credit: Virginia Tech
"Hockey has the highest rate of concussion of all sports. Football has more, but more people play football," said assistant professor Steven Rowson. "By rate, hockey is the highest, especially for female hockey players. They have a range of bodily injuries, but we are focused on brain injuries and reducing the risk of concussion."
Hockey helmets share the same basic plastic shell and interior padding of football helmets, but they are much smaller and adjustable, said Stefan Duma, head of the university's Department of Biomedical Engineering and Mechanics.
Cost had no impact on a helmet's safety rating. Some helmets priced at less than $100 outperformed models that hit the $300 mark, added Bethany Rowson, lead author on the Hockey STAR paper, who is completing dual doctoral degrees in biomedical engineering and in veterinary medicine at the Virginia-Maryland College of Veterinary Medicine.
Bob Gfeller, executive director of the Childress Institute for Pediatric Trauma in Winston-Salem, North Carolina, is one of the many child safety advocates following the release of ratings and keen on seeing changes with the sport.
"It makes a lot of sense for the team at Virginia Tech to apply their helmet rating system to hockey helmets," he said. "The five-star rating system has changed the way the public views football helmet ratings. Both of these initiatives will improve sports safety."
Since first releasing safety ratings data on football helmets four years ago, manufacturers have sought to improve their products, Duma said. In spring 2014, all five of the new adult football helmets to hit retail shelves earned top marks under the football portion of the STAR Evaluation System.
Ratings of youth football helmets, baseball, softball, and lacrosse helmets are expected to follow in the next decade. For all sports, the Virginia Tech has adopted a rolling update so as soon as new helmets hit the market, the research team immediately will test and rate them.
The team is careful to warn that any player in any sport can suffer a concussion, even with the best head protection. "There is no concussion-proof helmet, but the better helmets lower head acceleration and that lowers risk." Duma said.
Published in Annals of Biomedical Engineering