Think University of Nottingham students enjoy a pint on occasion?   It's a safe bet, since the school is putting in a fully-functioning brewery, and brewing must be a key contributor to the East Midlands economy since it boasts some 78 small or medium sized micro-breweries.  
The new facility, they say, will enhance its 'world leading' status in brewing science - and perhaps save SABMiller, one of the largest brewing companies in the world and financier, builder and operator of the new micro-brewery, some shipping and transportation costs.   SABMiller also says the new brewery will allow them to research new ways to reduce the amount of energy required in the production process by optimizing the fermentation process while maintaining beer quality.  Worth a $3 million investment, it seems.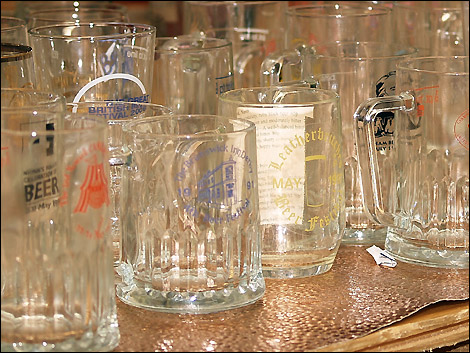 There are a lot of empty glasses in Nottingham.   Below is what the Nottingham Beer Festival looks like most of the time. Photo: Andy Zadora
The 1,000 liter plant will be among the largest university breweries in the world and should open its doors in 2011. They say the facility will be used to deliver courses to train brewers in the production of beer and deliver the University's flagship Masters Degree in Brewing Science.
Katherine Smart, SABMiller Professor of Brewing Science, said, "Having monitored full scale processes we have identified areas where improvements could be made. Our research in the lab has been really exciting, but to succeed in developing new technologies it's essential to have access to this kind this kind of facility so that our ideas can be tested at a suitable scale. It will be just like walking into a small brewery with its stainless steel plant and its own packaging line. We will be able to develop sustainable brewing processes and beer produced at the plant can even be put through our sensory panel — a group of individuals who have been specially trained to taste the 90 different flavour characteristics in beer."
SABMiller's Group Chief Brewer, Professor Barry Axcell said: "It made complete sense to build the pilot brewery alongside The University of Nottingham existing brewing facilities. We work very closely with Professor Smart and her team and this will allow for greater synergies in our research."
You've seen 'SABMiller' and 'professor' in the same title a few times now, right?   Nottingham researchers are apparently in the tank for SABMiller the way
the UC Davis nutrition department is in the tank for Mars Candy
.
The Vice-Chancellor, Professor David Greenaway, said, "This is a very exciting development for The University of Nottingham, and further strengthens our partnership with SABMiller. The construction of a state-of-the-art brewing facility will put us in the forefront of brewing research in this country and open up unrivalled opportunities for teaching and research both from within the university and with industrial partners."