A few years ago, another colony collapse occurred. Though it has happened more times than recorded history has been able to log, the concern was that new pesticides, which replaced the old pesticides blamed for the last colony collapse, might be the cause.
Since then, bees have rebounded nicely. The collapse was limited to one geography, rather than everywhere the newer pesticides - neonicotinoids - were used, so researchers have been scrambling to find out why it happened and therefore make it predictable.
A new study says it could just be stress - young bees are sometimes pressured to grow up too fast.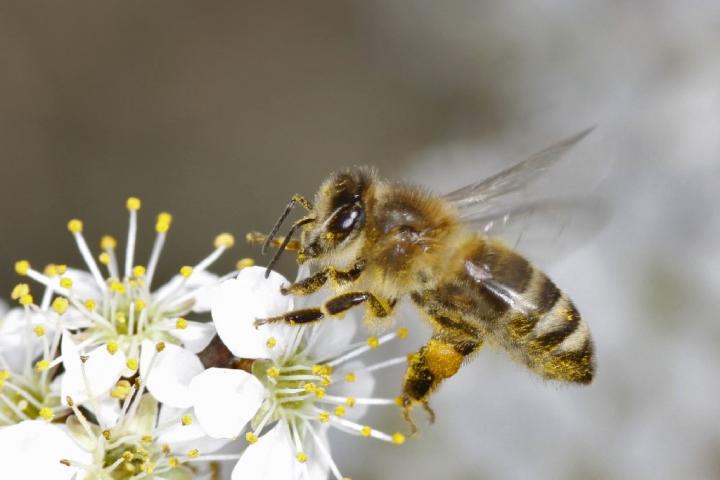 Credit: QMUL
Bees usually begin foraging when they are 2-3 weeks old but when bee colonies are stressed by disease, a lack of food, or other factors that kill off older bees, the younger bees start foraging at a younger age. Researchers attached radio trackers to thousands of bees and tracked their movement throughout their lives. They found that bees that started foraging younger completed less foraging flights than others and were more likely to die on their first flights.
The researchers, from Queen Mary University of London (QMUL), Macquarie University in Sydney, Washington University in St Louis, and University of Sydney, used this information to model the impact on honey bee colonies. They found that any stress leading to chronic forager death of the normally older bees led to an increasingly young foraging force. This younger foraging population lead to poorer performance and quicker deaths of foragers and dramatically accelerated the decline of the colony much like observations of CCD seen around the world.
Dr. Clint Perry from the School of Biological and Chemical Sciences at QMUL, said, "Young bees leaving the hive early is likely to be an adaptive behaviour to a reduction in the number of older foraging bees. But if the increased death rate continues for too long or the hive isn't big enough to withstand it in the short term, this natural response could upset the societal balance of the colony and have catastrophic consequences.
"Our results suggest that tracking when bees begin to forage may be a good indicator of the overall health of a hive. Our work sheds light on the reasons behind colony collapse and could help in the search for ways of preventing colony collapse."