Most fashion students keep finished designs in a wardrobe but Emily Crane has to use a freezer.   Unlike the stereotypical fashion designer, Crane is more likely to be found in a lab coat and wearing goggles than working with pencils or scissors.
Crane's work forms an exotic part of Kingston University's display at Vauxhall Fashion Scout on September 17, during London Fashion Week, and she is currently preparing her collection but can't promise what she'll be showing - because it doesn't always work, being that her clothes are made of things like
gelatin and seaweed.
"I never know exactly what something is going to turn out like in advance because the processes are still very experimental," says Crane, so while other students are putting finishing touches on garments in Kingston's fashion studios, Crane works in a refrigerated trailer parked on her mother's driveway in Bath. Her younger sister, Felicity, is her model, while her father operates a bubble machine and acts as her assistant.
Emily Crane.  Credit: Kingston University
One of her first major pieces at Kingston was a dress grown from soap bubbles in her freezer. "The 'Bubble Dress' took just seven minutes to melt, so it felt really special to wear something that would only last for such a short time," Emily said.  As it was made from soap, the Bubble Dress wasn't edible; Emily had to find other ingredients. Most of her garments and accessories are now 'grown' .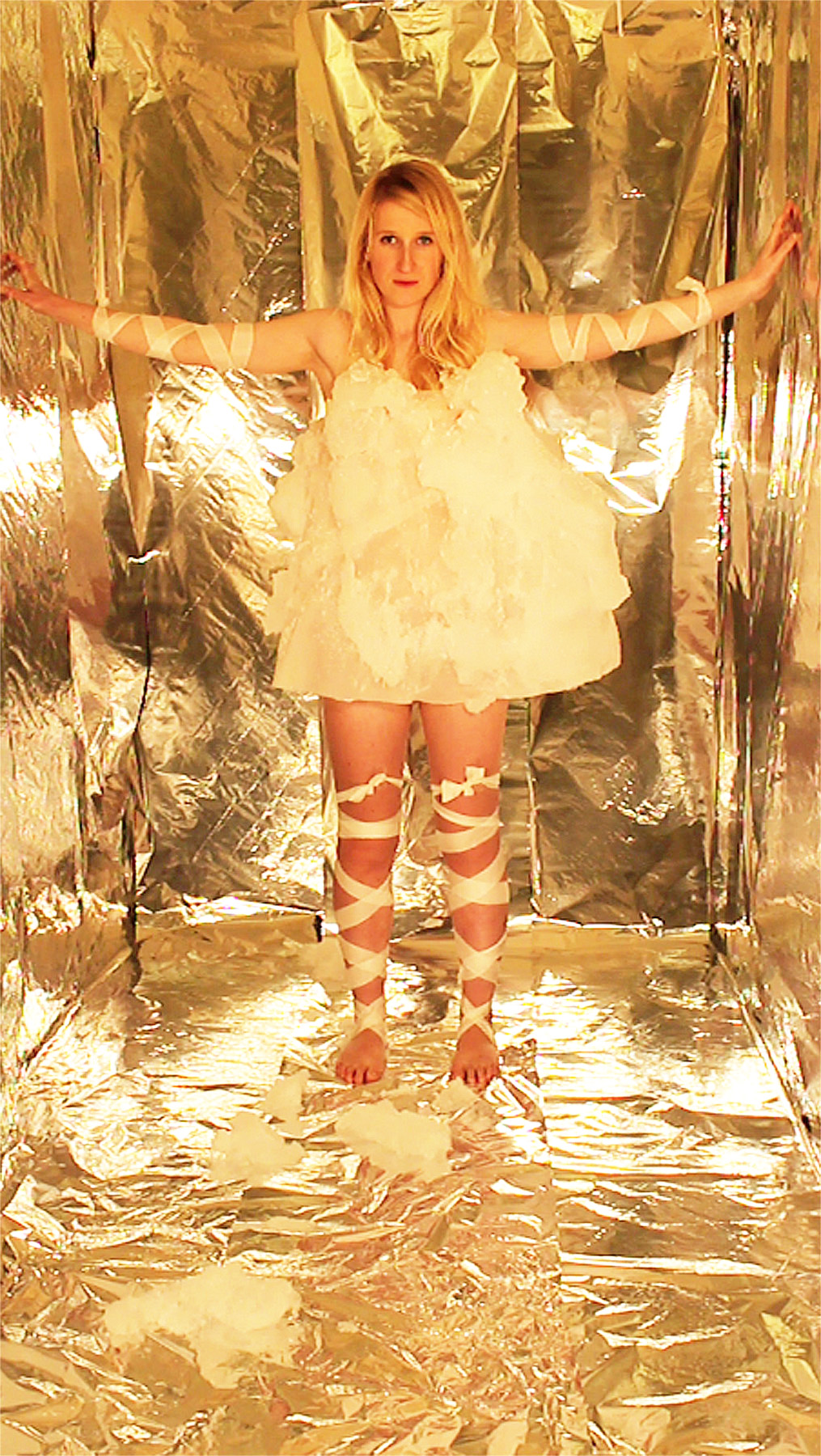 Felicity Crane in the bubble dress.  Credit: Kingston University
How did she come to know she wanted to grow food for clothing?   "I was designing a dress which was half white and half black and experimented using a black food dye. The white side stayed solid, but the black side became soft. I realised that the glycerol in the food dye had completely changed the texture of the garment.
"People always ask me whether I did Chemistry at A-level but, to be honest, I hated science at school.   I'd have never dreamt that this is what I'd be doing now."
As for the future, Emily hopes to be able to sell her designs in kit form. "People would be able to buy packs which would include everything they need to cultivate their own uniquely tailored outfits," she explained. And does Emily foresee a day when dinner party guests will eat their own Michelin starred clothes? "Why not? Let the banquet begin."