Five hundred smiling people from around the world gathered today in the world's theme park capital to set the Guinness World Record for the biggest smiley face. Coinciding with and celebrating today's official World Smile Day(R), they formed the smiley face and stood shoulder to shoulder for ten minutes on the top parking deck of the new Amway Center mega arena, home to the NBA's Orlando Magic.  
During the campaign to produce the world's largest smiley face, they also raised $19,825 for the charitable organization, Smile Train, which will be used to provide more than 70 cleft lip or cleft palate surgeries for children so they can smile too. Some of the children who have benefitted from Smile Train's work joined the smile ambassadors from all over the world at the record-breaking event.  
True to the saying, 'Smile and the whole world smiles with you', the Orlando Convention Visitors Bureau  spent half a year searching the globe for people who had smile stories to share as part of their World Smile Search campaign. More than 20,000 smile stories from 77 countries were collected at http://www.VisitOrlando.com/smile and the people behind some of those stories were flown in for the world record event.
At 50 feet in diameter, the world's largest smiley face was nearly the size of a basketball court. Amongst the participants dressed in yellow and black ponchos, were travelers from across the United States, the United Kingdom, Canada, Germany and Brazil.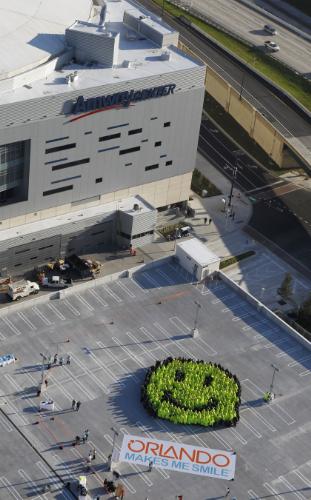 Five hundred smiling people from across the globe gathered in Orlando to celebrate World Smile Day by setting a new Guinness World Record for the largest smiley face. Organized by the Orlando Convention&Visitors Bureau as part of their "Orlando Makes Me Smile" campaign, the smile was nearly as wide as a basketball court at 50 feet in diameter. Participants from the U.S, U.K., Canada, Brazil and Germany donned yellow or black ponchos outside Orlando's new multi-million Amway Center. (PRNewsFoto/Orlando CVB, Rick Fowler)
"With our world-famous theme parks and more than 100 attractions, we thought we might just be the smile capital of the world. Now, it's official," smiled Gary Sain, president and CEO of the Orlando CVB. "We have a world record and world travelers from the four corners of the globe told us that no other destination creates unique smile moments and memories like Orlando for families and friends to share for a lifetime."