Scientists from Queen Mary University of London have found that naturally high concentrations of the greenhouse gas methane contributes to energy production in chalk rivers, in a new study published today in the journal Proceedings of the Royal Society B.
Chalk rivers, found from Dorset to Cambridgeshire, sustain a diverse range of protected animals and plants, and are renowned globally for fly fishing, an industry worth more than £4M on the Rivers Test and Itchen (Hampshire) alone.
"It's a surprise to find methane is such a big source of energy in these gin-clear waters, famed for their luxuriant plant growth," said co-author Professor Mark Trimmer, Head of the Aquatic Ecology Group at Queen Mary's School of Biological and Chemical Sciences.
The researchers analysed the methane concentration in over 30 rivers in Southern England, including the River Lambourn in Berkshire.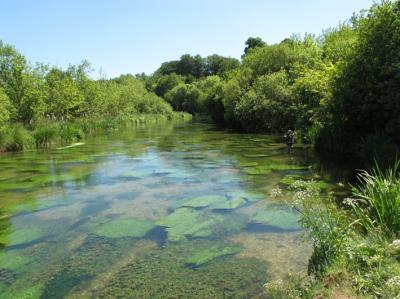 PhD student and co-author Felicity Shelley, who led the analysis, said: "In the riverbed of the Lambourn, the contribution of energy derived from methane to the food web varied seasonally, peaking in the summer when the concentrations were highest and trees and plants shaded the riverbed.
"The rapid growth of aquatic plants during the summer months prevents light from reaching the river bed and limits photosynthesis. Particular types of bacteria consume methane creating food for grazing insects, and consequently, the rest of the food web, including trout."
The research could have implications for the agriculture sector, which contributes to more than a third of greenhouse gas emissions. For example, fine sediments, washed into rivers from farmland used to grow crops are known to be sources of methane gas.
Professor Trimmer added: "We used to think energy from the breakdown of chemicals was only substantial in dark places where photosynthesis is impossible like deep oceans. Our findings require us to rethink what we know about chemosynthetic production."