It's no surprise when obese preschoolers have obese parents. It's actually expected. So it's not a surprise when obesity treatment is more effective when it targets both parent and child compared to when only the child is targeted.
Children enrolled in this study were overweight or obese and had one parent who participated in the study who also was overweight or obese, according to body mass index (BMI) measurements, calculated based on height and weight.
During the course of the study, children who were treated concurrently with a parent experienced more appropriate weight gain while growing normally in height. Children in the intervention group gained an average of 12 pounds over 24 months compared to children in the control group who gained almost 16 pounds. This more appropriate weight accrual resulted in a decrease of 0.21 percent over BMI from baseline to 24 months.
Parents in the intervention group lost an average of 14 pounds, resulting in a BMI decrease of over 2 units while the weight of parents in the control group was essentially unchanged.
"Our results show that the traditional approach to overweight prevention and treatment focusing only on the child is obsolete," says Teresa A. Quattrin, MD, senior author and
University at Buffalo
Distinguished Professor, chair of the Department of Pediatrics in the School of Medicine and Biomedical Sciences and pediatrician-in-chief at Women and Children's Hospital of Buffalo. "This study is important because while we know that it is critical to begin treating overweight or obese children early, there has been limited data on what works best in preschool-aged children."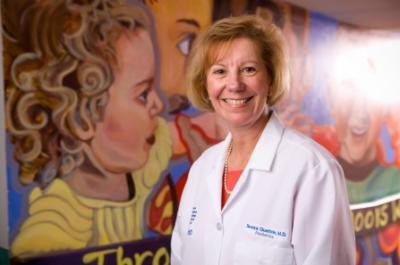 The research was part of Buffalo Healthy Tots, a novel family-based, weight control intervention in preschool children that Quattrin directed in urban and suburban pediatric practices in Western New York.
When funded in 2010 with a $2.6 million grant by the National Institutes of Health, Buffalo Healthy Tots was the first of its kind in the U.S. The goal was to compare traditional approaches where only the child is treated to family-based, behavioral treatment implemented in pediatric primary care practices.
The study of 96 children ages 2–5 found that when overweight and obese youth and their parents were treated in a primary care setting with behavioral intervention, parents and children experienced greater decreases in body mass index (BMI) than did the children who received the traditional treatment, focusing only on the child. Weight loss for both parent and child was sustained after a 12-month followup.
Quattrin notes that an important feature of the study was the use of practice enhancement assistants, trained in psychology, nutrition or exercise science. These assistants worked with the families both during treatment and education sessions and afterward by phone.
The intervention was delivered through the parents, who were instructed about the appropriate number of food servings for children and appropriate calorie values. They were taught to avoid "high-energy" foods, such as those with high sugar content, more than 5 grams of fat per serving or artificial sweeteners.
Parents monitored the number of servings in each food category, using a simple diary to cross off icons pertaining to the food consumed or type of physical activity performed. Parents also were taught to record their own and their child's weight on a simple graph.
Weight loss goals for children were 0.5 to 1 pound per week and for parents it was at least 1 pound per week.
Quattrin says that the study results suggest that overweight or obese children and their parents can be successfully treated in the primary care setting with the assistance of practice enhancers.
"Instead of the more traditional approach of referring these patients to a specialty clinic, the patient-centered medical home in the pediatrician's office may be an ideal setting for implementing these family-based treatments," she says.
"We have entered a new era where students, trainees and specialists have to learn how to better interact with primary care providers and implement care coordination. This paper suggests that, indeed, family-based strategies for any chronic disorder, including obesity, can be successful in primary care. The pediatrician's office can become a 'family-centered medical home.'"
Published in Pediatrics and conducted at the University at Buffalo and Women and Children's Hospital of Buffalo.
Source: University at Buffalo