Researchers have announced discovery of a species of animal related to crabs, lobsters and shrimps that is new to science.
A tiny shelled arthropod was found in 425 million-year-old rocks in Herefordshire, Welsh Borderland. The rocks at the site date to the Silurian period of geological time, when southern Britain was a sea area on a small continent situated in warm, southerly subtropical latitudes. The ostracods and associated marine animals living there were covered by a fall of volcanic ash that preserved them frozen in time.
The new, 10 millimeter long fossil is special because it is exceptionally well preserved: complete with not only the shell but also the soft parts – its body, limbs, eyes, gills and alimentary system. Such discoveries are extremely rare in the fossil record.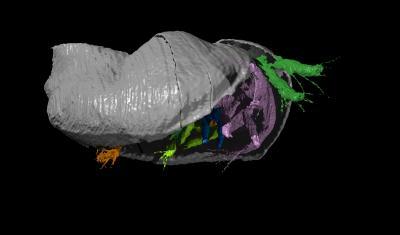 "The preservation of soft-parts of animals is a very rare occurrence in the fossil record and allows unparalleled insight into the ancient biology, community structure and evolution of animals - key facts that that would otherwise be lost to science. The fossils known from the Herefordshire site show soft-part preservation and are of global importance."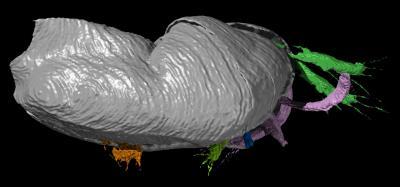 The fossils were reconstructed 'virtually', by using a technique that involves grinding each specimen down, layer by layer, and photographing it at each stage. Ten millimeters is relatively tiny, but at an incremental level of 20 µm (micrometers) that yields 500 slices, which can then be pieced together in a computer to provide a full, three-dimensional image of each fossil, outside and in.
Siveter added, "Fossil discoveries in general help elucidate our own place in the tree of life. This discovery adds another piece of knowledge in the jigsaw of understanding the diversity and evolution of animals. It is exciting to discover that a common group of fossils that we thought we knew a lot about may well have been hood-winking us as to their true identity, which we now realise because we have their beautifully fossilised soft-parts. A case of a 'wolf in sheep's clothing'."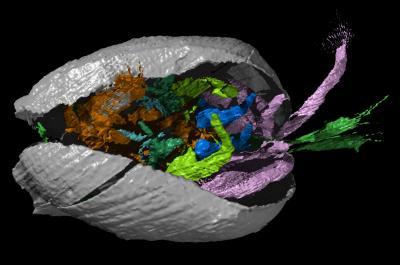 The species of ostracod was announced in the journal, Proceedings of The Royal Society B.