If we're lucky, fossils can at least tell us whether an extinct species was carnivore or vegetarian but the skull characteristics of a new species of parrot-beaked dinosaur and its associated gizzard stones indicate that the animal fed on nuts and/or seeds;the first solid evidence of nut-eating in any dinosaur.
Paleontologists discovered the new dinosaur, which they've named
Psittacosaurus gobiensis
, in the Gobi Desert of Inner Mongolia in 2001, and spent years preparing and studying the specimen. The dinosaur is approximately 110 million years old, dating to the mid-Cretaceous Period.
"The parallels in the skull to that in parrots, the descendants of dinosaurs most famous for their nut-cracking habits, is remarkable," said Paul Sereno, a paleontologist at the University of Chicago and National Geographic Explorer-in-Residence. Sereno and two colleagues from the People's Republic of China announce their discovery June 17 in the
Proceedings of the Royal Society B
.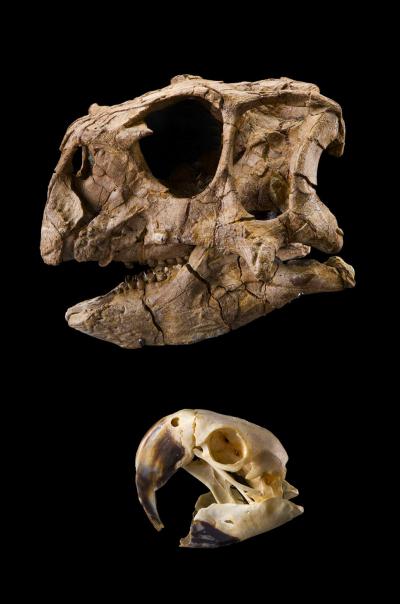 The skull of Psittacosaurus gobiensis (pictured here with the skull of a modern macaw) presents the first solid evidence of nut-eating in any dinosaur.  Credit: Mike Hettwer
The quantity and size of gizzard stones in birds correlates with dietary preference. Larger, more numerous gizzard stones point to a diet of harder food, such as nuts and seeds. "The psittacosaur at hand has a huge pile of stomach stones, more than 50, to grind away at whatever it eats, and this is totally out of proportion to its three-foot body length," Sereno explained.
Technically speaking, the dinosaur is also important because it displays a whole new way of chewing, which Sereno and co-authors have dubbed "inclined-angle" chewing. "The jaws are drawn backward and upward instead of just closing or moving fore and aft," Sereno said. "It remains to be seen whether some other plant-eating dinosaurs or other reptiles had the same mechanism."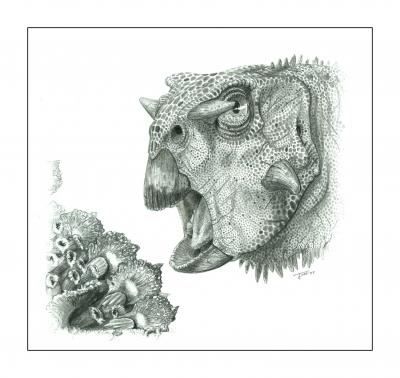 Impression of  newly discovered species of parrot-beaked dinosaur, Psittacosaurus gobiensis. Scientists first discovered psittacosaurs in the Gobi Desert in 1922, calling them "parrot-beaked" for their resemblance to parrots. Psittacosaurs evolved their strong-jawed, nut-eating habits 60 million years before the earliest parrot.  Credit: Todd Marshall
The unusual chewing style has solved a major mystery regarding the wear patterns on psittacosaur teeth. Psittacosaurs sported rigid skulls, but their teeth show the same sliding wear patterns as plant-eating dinosaurs with flexible skulls.
Citation: "A new psittacosaur from Inner Mongolia and the parrot-like structure and function of the psittacosaur skull," Paul A. Sereno, University of Chicago; Zhao Xijin, Chinese Academy of Sciences;   Tan Lin, Bureau of Land Resources, Hohot, People's Republic of China, Proceedings of the Royal Society B, June 17, 2009
Funding sources: National Geographic Society; David and Lucile Packard Foundation; Biological Sciences Division, University of Chicago; and the Long Hao Institute of Stratigraphic Paleontology