Malaria is a critical health problem in West Africa, 11 percent of deaths are related to it, but for a variety of reasons they have more confidence in alternative medicine than they do modern health care practices.
However, some herbal medicines work and an analysis of the pharmacological properties of an herbal medication derived from Cochlospermum planchonii (a shrubby weed known as N'Dribala), Phyllanthus amarus and Cassia alata shows that it may be the case with SAYE, which means "jaundice" in the Dioula language.
When combined with leaves and aerial portions of the latter two plants and formulated as a tea, C. planchonii has shown enough efficacy to be licensed and sold as an antimalarial phytomedicine - in Burkina Faso, anyway. Phytomedicine, a name coined by Henri Leclerc in the early part of the 20th century, is a more formal term for the practice of herbal medicine. Dr. Merlin Willcox of the University of Oxford, Dr. Zéphirin Dakuyo (Phytofla, Banfora, Burkina Faso), and coauthors discuss the antimalarial and pharmacological properties of the herbal medication along with the early evaluation, development, and production of this phytomedicine.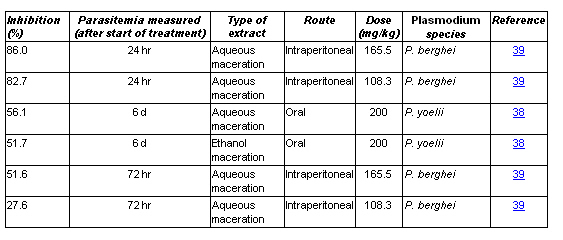 In Vivo Antimalarial Activity of Whole Plant Extracts of P. amarus in Mice with Established Infection (Curative Test). Credit:
doi:10.1089/acm.2014.0147

They also discuss the ongoing research and challenges in scaling up cultivation and harvesting of the plants and in production of the final product. The article also describes other traditional uses of the medication, such as to treat hepatitis.
The big question is, when an herbal medicine goes mainstream, will people who don't trust doctors or double-blind clinical trials still want to take it?
Citation: Dakuyo Zéphirin, Meda Aline Lamien, Ollo Da, Kiendrebeogo Martin, Traoré-Coulibaly Maminata, Novak Johannes, Benoit-Vical Françoise, Weisbord Emma, and Willcox Merlin, 'SAYE: The Story of an Antimalarial Phytomedicine from Burkina Faso', The Journal of Alternative and Complementary Medicine, doi:10.1089/acm.2014.0147