A new study has found that the pond-dwelling, single-celled organism Oxytricha trifallax has the remarkable ability to break its own DNA into nearly a quarter-million pieces and will then rapidly reassemble those pieces when it's time to mate.
Why? No one knows, sometimes nature gets drunk and creates things that make no sense. The organism internally stores its genome as thousands of scrambled, encrypted gene pieces. Upon mating with another of its kind, the organism rummages through these jumbled genes and DNA segments to piece together more than 225,000 tiny strands of DNA. This all happens in about 60 hours.
The organism's ability to take apart and quickly reassemble its own genes is unusually elaborate for any form of life, explained senior author Laura Landweber, a Princeton professor of ecology and evolutionary biology. That such intricacy exists in a seemingly simple organism accentuates the "true diversity of life on our planet."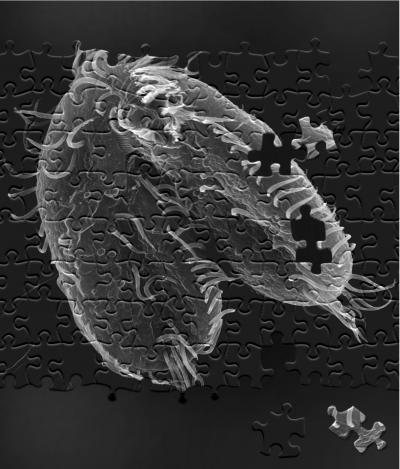 Burger added that the work is "extremely comprehensive as to the experimental techniques employed and analyses performed." The project is one of the first complex genomes to be sequenced using Pacific Biosciences (PacBio) technology that reads long, single molecules.
Oxytricha already stands apart from other microorganisms, Landweber said. It is a large cell, about 10 times the size of a typical human cell. The organism also contains two nuclei whereas most single-celled organisms contain just one. A cell's nucleus regulates internal activity and, typically, contains the cell's DNA as well as the genes that are passed along during reproduction.
An individual Oxytricha cell, however, keeps its active DNA in one working nucleus and uses the second to store an archive of the genetic material it will pass along to the next generation, Landweber said. The genome of this second nucleus — known as the germ-line nucleus — undergoes the dismantling and reconstruction to produce a new working nucleus in the offspring.
Oxytricha uses sex solely to exchange DNA rather than to reproduce, Landweber said — like plant cuttings, new Oxytricha populations spawn from a single organism. During sex, two organisms fuse together to share half of their genetic information. The object is for each cell to replace aging genes with new genes and DNA parts from its partner. Together, both cells construct new working nuclei with a fresh set of chromosomes. This rejuvenates them and diversifies their genetic material, which is good for the organism, Landweber said.
"It's kind of like science fiction — they stop aging by trading in their old parts," she said.
It's during this process that the scrambled genes in the germ-line nucleus are sorted through to locate the roughly 225,000 small DNA segments that each mate uses to reconstruct its rejuvenated chromosomes, the researchers found. Previous work in Landweber's lab — a 2012 publication in Cell and a 2008 paper in the journal Nature — showed that millions of noncoding RNA molecules from the previous generation direct this undertaking by marking and sorting the DNA pieces in the correct order.
Also impressive is the massive scale of Oxytricha's genome, Landweber said. A 2013 paper from her lab in PLoS Biology reported that the organism contains approximately 16,000 chromosomes in the active nucleus; humans have only 46. Most of Oxytricha's chromosomes contain just a single gene, but even those genes can get hefty. A single Oxytricha gene can be built up from anywhere between one to 245 separate pieces of DNA, Landweber said.
The exceptional genetics of Oxytricha protect its DNA, so that mainly healthy material is passed along during reproduction, Landweber said. It's no wonder then that the organism can be found worldwide munching on algae.
"Their successful distribution across the globe has something to do with their ability to protect their DNA through a novel method of encryption, then rapidly reassemble and transmit robust genes across generations," Landweber said.