As the search continues for Earth-size planets orbiting at just the right distance from their star, a region termed the habitable zone, the number of potentially life-supporting planets grows. In two decades we have progressed from having no extrasolar planets to having too many to search. Narrowing the list of hopefuls requires looking at extrasolar planets in a new way.
But Tau Ceti already doesn't make the cut.
The Tau Ceti system has long been used in science fiction and even popular news and in shows like "Star Trek" it was a very likely place to have life due to its proximity to Earth and the star's sun-like characteristics. Since December 2012 Tau Ceti has become even more appealing, thanks to evidence of possibly five planets orbiting it, with two of these - Tau Ceti e and f - potentially residing in the habitable zone.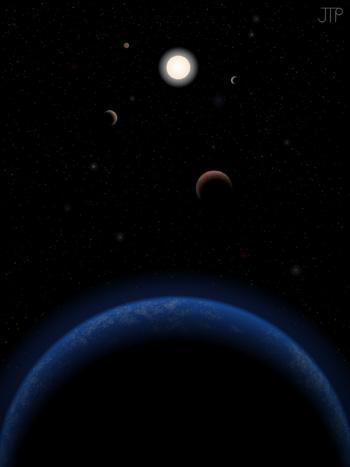 An artist's impression of the Tau Ceti system. Credit: J. Pinfield for the RoPACS network at the University of Hertfordshire, 2012
But using the chemical composition of Tau Ceti, a team modeled the star's evolution and calculated its habitable zone. Although their data confirms that two planets (e and f) may be in the habitable zone it doesn't mean life flourishes or even exists there. Based upon the team's models, planet f has likely been in the habitable zone much less than 1 billion years. This sounds like a long time, but it took Earth's biosphere about 2 billion years to produce potentially detectable changes in its atmosphere. A planet that entered the habitable zone only a few hundred million years ago may well be habitable and even inhabited, but not have detectable biosignatures.
According to Pagano, he and his collaborators didn't pick Tau Ceti "hoping, wanting, or thinking" it would be a good candidate to look for life, but for the idea that these might be truly alien new worlds.
Tau Ceti has a highly unusual composition with respect to its ratio of magnesium and silicon, which are two of the most important rock forming minerals on Earth. The ratio of magnesium to silicon in Tau Ceti is 1.78, which is about 70% more than our sun.
"With such a high magnesium and silicon ratio it is possible that the mineralogical make-up of planets around Tau Ceti could be significantly different from that of Earth. Tau Ceti's planets could very well be dominated by the mineral olivine at shallow parts of the mantle and have lower mantles dominated by ferropericlase," explains Arizona State University mineral physicist Sang-Heon (Dan) Shim.
Considering that ferropericlase is much less viscous, or resistant to flowing, hot, yet solid, mantle rock would flow more easily, possibly having profound effects on volcanism and tectonics at the planetary surface, processes which have a significant impact on the habitability of Earth.
"This is a reminder that geological processes are fundamental in understanding the habitability of planets," Shim adds.
This work was supported by funding from the NASA Astrobiology Institute and NASA Nexus for Exoplanet System Science.