Well-known jeweler Tiffany&Co. has introduced a new website and iPhone(R) App for people who fall in love and simply must see other stories about people in love. How well known is Tiffany's? There's the rather famous "Breakfast at Tiffany's", from a novella by Truman Capote that was made into a Blake Edwards film starring Audrey Hepburn, but they likely aren't showing it in the store today because Mickey Rooney's buck-toothed Mr. Yunioshi comes across as racist to a modern crowd.
Holly Golightly also says things like, "But I am mad about Jose. I honestly think I'd give up smoking if he asked me" and Rob Reiner and other progressive thought control police in Hollywood equate smoking with war crimes today, so that would get them picketed.
They are well-known enough that certainly no man at Science 2.0 would be so unintelligent as to visit New York City and not return with a little blue box for that special lady.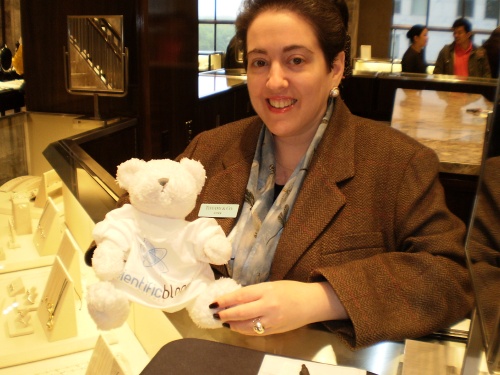 Science 2.0 creator Hank Campbell certainly visited Tiffany's and here Bloggy schmoozes the salesperson, Lynn, who, by the way, was terrific.
They want the website and app to be the go-to resource for romantics everywhere. Well, don't we all want that? Tiffany's wants to share its 175 years as an expert on the subject and give a plug to New York City also.
The content of whatmakeslovetrue.com consists of four main areas:
- Love Stories: Couples recount magical moments like a diamond engagement ring or other gift - the kind of thing you might get at Tiffany's. Couples tell of a Tiffany silver loving cup that has toasted generations of brides and grooms, falling in love in Paris and returning to New York and a first apartment and browsing engagement rings, with the favorite later purchased by a nervous future husband for his joyous wife-to-be.
- The Art of Romance: "Tiffany Tips: When Love Gets Serious" presents sage advice to all who enter here, like mutual respect and the art of compromise, how important it is to be oneself, to listen carefully and keep excitement alive. There are also caveats regarding money and family matters.
- Tiffany's New York: From its famous corner at Fifth Avenue and 57th Street, Tiffany overlooks Midtown Manhattan, Central Park and the Upper East Side. They give a shout out to restaurants and museums as well as destinations in neighborhoods uptown and downtown. These venues may be offered as "tips" on Tiffany's page at foursquare.com.
- Love is Everywhere: Here users can add their own sentiments. After placing a heart at the desired point on a map and adding their initials, an overlay allows them to convey a story, send a note or perhaps suggest a favorite rendezvous.
Their site will be updated regularly with new content from Tiffany and visitors who add their own chapters.