NEW YORK, June 24 /PRNewswire/ --
- First Rotating Skyscraper to be Self Powered and Completely Prefabricated
Visionary Italian architect Dr. David Fisher today announced the launch of the revolutionary Dynamic Tower, the world's first building in motion, to be constructed in Dubai and Moscow with other locations planned worldwide.
Rotating Tower Technology Company, headed by the Dynamic Architecture Group, announced the opening on June 24 of the reservations list for the first Dynamic Tower in Dubai. The company has also revealed the design and master plan of the rotating building, which will have 80 floors and be 420 meters (1,380 feet) tall. Apartments will range in size from 124 square meters (1,330 square feet), to Villas of 1,200 square meters (12,900 square feet) complete with a parking space inside the apartment.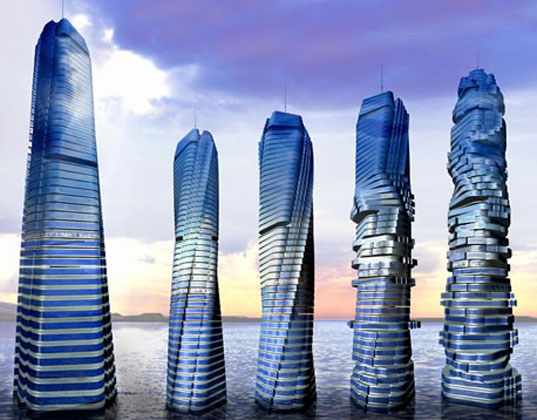 Dr. Fisher also announced that the second Dynamic Tower planned for Moscow is now in the advanced design phase, with preassembling of the units to begin in the 4th quarter of 2008, and completion scheduled for 2010. The developer is the Mirax Group, headed by leading international developer Sergei Polonsky. The Moscow tower, which will have 70 floors and be 400 meters (1,310 feet) tall, will be located in Moscow City, the new prestigious area of the Russian capital.
"Our intention is to build the third Dynamic Tower in New York," Dr. Fisher stated. "Additional Dynamic Towers will be built around the world, following an expression of interest from developers, governments, and public officials to construct a Dynamic Tower in Canada, Germany, Italy, Korea and Switzerland."
The Dynamic Tower offers infinite design possibilities, as each floor rotates independently to create a building that constantly changes shape, resulting in a unique and ever evolving architectural structure.
"The Dynamic Tower is environmentally friendly and the first building designed to be self-powered, with the ability to generate electricity for itself, as well as for other nearby buildings. It achieves this feat with wind turbines fitted between each rotating floor. An 80-story building will have up to 79 wind turbines, making it a true green power plant," Dr. Fisher stated.
The Dynamic Tower is also the first skyscraper to be built entirely from prefabricated parts that are custom made in a workshop, resulting in cost savings of at least 20 percent. This approach, known as the Fisher Method, also requires far fewer workers on the construction site, thereby dramatically lowering construction costs.
"Each floor of the building can be completed in only seven days. From now on, buildings will be made in a factory," Dr. Fisher said.
By combining motion, green energy and efficient construction, the Dynamic Tower will change architecture as we know it, and herald a new era of Dynamic Living.
Renowned Italian architect Dr. David Fisher is the creator of the Dynamic Tower, a building in motion. He has spent more than 30 years working to redefine the technical and technological extremes of buildings in cities like London, New York, Moscow, Hong Kong, Paris and Dubai.
Web site: http://www.dynamicarchitecture.net