Vegetable-tanned leather, a bio-diesel ready engine and sustainable carpet materials? It's the luxury SUV Leonardo DiCaprio won't be afraid to drive.
The LRX hybrid cross-coupe concept is Land Rover's attempt to create a new market - expensive autos for progressive rich people. It's also the first all-new Land Rover since Gerry McGovern became the company's design director.
LRX is conceived as being powered by a 2.0-liter, turbodiesel engine, capable of running on bio-diesel. In combination with other Land Rover technologies, this powertrain could reduce fuel consumption by as much as 30 percent compared with other SUVs of comparable size, as well as reduce emissions.
The concept's integrated Electric Rear Axle Drive (ERAD) would allow LRX to use electric drive alone at lower speeds while retaining full (even improved) sport utility ability in tough conditions. Unlike the hybrid technology used by some SUV rivals, Land Rover's unique solution retains mechanical drive to all four wheels.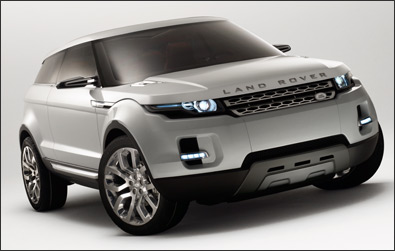 Off-road, the ERAD would provide additional torque only when it is needed, and with maximum electrical torque from standstill, this solution offers even better low-speed control and enhanced pull-away on difficult surfaces. On the road, the ERAD would allow low-speed traffic creep up to 20 mph on electric power alone, with the Integrated Starter-Generator (ISG) function re-starting the engine automatically when needed. The electric drive would then continue to assist the mechanical drive until the engine is running in its most efficient range. The ISG would also stop the engine automatically when the vehicle halts in traffic, so the engine does not idle needlessly, and restart it quickly and smoothly as required.
LRX also incorporates Hill Descent Control and Land Rover's acclaimed and user-friendly Terrain Response system. In the LRX, Terrain Response adds a special "Eco" mode, for optimal economy, to the standard modes found on all other Land Rover vehicles.
The design of LRX was developed entirely in-house by Design Director Gerry McGovern's team, driven by a passion to create a vehicle that truly represents Land Rover's future thinking. Inside, LRX's distinctive seats 'float' on individual plinths and have open frameworks to reinforce the impression of light, airy interior space -- while also creating useful under-seat and under-floor stowage areas. To reduce overall vehicle weight, the glass for the side windows and roof were replaced with polycarbonate
from SABIC Innovative Plastics, which is around 40 percent lighter, yet still strong and scratch-resistant.
Even the choice of premium-quality trim materials reflects Land Rover's deep thinking about sustainability, with vegetable-tanned leather (chromium-free, so better for recycling), extensive use of aluminum (both lightweight and readily recyclable) and carpeting made of felt from sustainable sources. And the luxurious, vanilla-colored 'fine suede' on the door inserts and headliner is a 100% recycled material made from used plastic bottles and fibers.
"The LRX concept delivers the powerful message that we are as serious about sustainability as we are confident about the continuing relevance and desirability of our vehicles," says Phil Popham, Land Rover's managing director. "LRX is in every respect a Land Rover, but it's a very different Land Rover. At this stage, LRX is purely a concept, designed to help us develop our thinking as well as gauge customer reaction -- but this feels like a hugely exciting direction to take."
"We are determined to make sustainability a key element in our future product design and the way we do business, while still creating vehicles that have a strong emotional appeal as well as fulfilling people's practical needs," adds Phil Popham. "No single technology delivers all the answers to whole-life sustainability, but the LRX concept brings together some of the ideas for the future that interest us, integrating them into a car that we believe represents an exciting way forward for Land Rover."