At yesterday's International Solid State Circuit Conference, Holst Centre - founded by the Belgian nanoelectronics research center IMEC and the Dutch research center TNO - presented a plastic 64-bit inductively-coupled passive RFID tag operating at 13.56MHz.
With a record 780bit/s data readout of 64 bits over 10cm, the device approaches item-level tagging requirements. The tag generates a 5-fold higher bit rate compared to state-of-the-art plastic RFID systems. The achievement paves the way for low-cost high-volume RFID tags to replace barcodes.
The RFID system consists of a low-cost inductive antenna, capacitor, plastic rectifier and plastic circuit, all on foil. The LC antenna resonates at 13.56MHz and powers up the organic rectifier with an AC voltage at this frequency. From this voltage, the rectifier generates the DC supply voltage for the 64-bit organic transponder chip which drives the modulation transistor between the on and off state with a 64bit code sequence. The foil with the transponder chip was processed by Polymer Vision.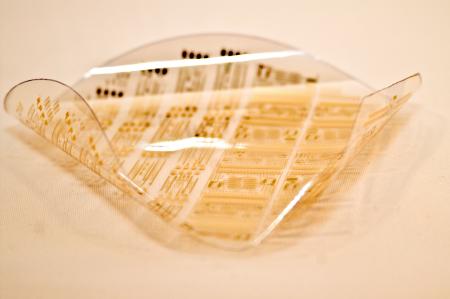 A fully flexible, 64-bit organic RFID tag generated by laminating three foils described in this work, being the antenna foil, the organic rectifier foil and the 64-bit organic digital logic foil.
Current results build on IMEC's breakthrough rectifier technology. Organic vertical diodes have been used in the rectifier since they outperform organic transistors for rectification at frequencies at and above 13.56MHz. At an RF magnetic field strength of 1.26A/m the rectifier generates an internal transponder supply voltage of 14V. At this voltage, the 64-bit designed code is read out at a data rate of 787bits/s. The reading distance is up to 10cm. The organic 64bit transponder chip, fabricated by Polymer Vision, is using organic bottom-gate p-type Pentacene thin-film transistors from soluble precursor route. It comprises only some 400 transistors and is thereby significantly smaller than previous designs.
The work was done within the framework of the Holst Centre research program on organic circuitry and was co-funded by the European project POLYAPPLY.