Sure, things are tough all over.    Heck, Linda Evangelista recently stated she now would get out of bed for less than $10,000 a day(1).   
While many sectors are struggling, the bridal market is booming - especially at the top end, where spoiled trophy brides don't want to hear that you won't spend $18,000 for a dress so you can fuel up your Gulfstream.   Reports from the British Bridal Exhibition in Harrogate, which as far as you know we did not attend, say business is booming.
At the recent show in March, expected by some to be an indicator that the market is, in fact, starting to falter, there was no sign of the economic downturn. Companies did brisk business during the three-day show, many topping their anticipated figures and bringing in better year-on-year orders.  "That retailers were spending carefully was welcomed by many. The serious buyers are here and they are single-minded in their approach, focusing on top quality and known labels," said one exhibitor.  Many shops were looking to increase their more expensive ranges and ready to cut back on those at the bargain-basement end of the price spectrum. Names are selling, was the message from the halls of the Harrogate Exhibition Centre and around the hotels that take part in the massive event.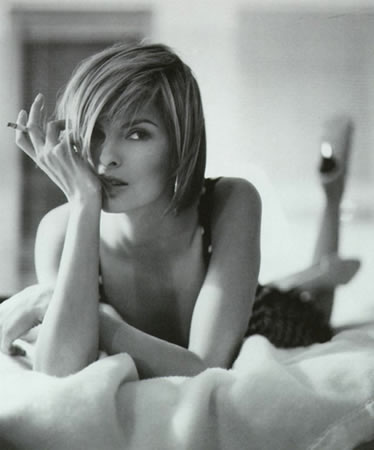 Linda Evangelista still in bed, showing the recession has not hit everywhere.
And among the new names at the show were Canadian designer Lea-Ann Belter, whose classic lines, beautiful fabrics, and understated sense of style have already earned her top marks in North America - a success that is already being repeated here. Nicole Marso is another designer label that grabbed attention. This Dublin-based designer who is, in fact, Russian, produced a superb collection of gowns with a highly individual handwriting - among the favourites was a beautifully-cut satin sheath gown with a voluminous detachable train, and a full-skirted dress made of tiny ruffles of hand-painted fabric.
The big brands such as Benjamin Roberts whose portfolio includes its own-name range, plus Tia, Constantina and Blue by Enzoani, played to packed houses throughout the show; Constantina's lace gowns with vintage-style touches - velvet tie belts, jewelled buckles and pretty bolero tops - said it all. And it was collections like Romantica, a long-time main-stay of the bridal industry, who confirmed their confidence in the market by introducing a sparkling new collection, Opulence. It lived up to its name - luscious fabrics, swathed and ruched to make the most of the female shape, with intricately-worked beading designed to add a highlight of shimmer and shine.
Maggie Sottero, whose classical Grecian-style chiffon gown won the coveted Wedding Dress of the Year title in the Bridal Buyer Awards 2009, showed a new collection of soft silhouettes, where the reliance was on cut and drape rather that voluminous skirtings. Brides planning a wedding overseas will find it hard to top this label.
But there was plenty of formality, too, with Hollywood Dreams yet again trumping all others in the big, romantic gown stakes. Tiny waists, beadworked and embroidered bodices and vast fairytale skirts are integral to the very distinctive handwriting of designer Marina Adamou, and this new collection is her best yet.
Sharon Bowen, showing at March BBEH for the first time, topped her September success in the Designer Hall. It was hard to get onto her stand at any time during the show and many retailers had to contend with making appointments for later in the season. With sexy satin gowns for the bride who likes open backs and lots of glitter, layered tulle for those who prefer the soft, feminine dressing with the barest hint of sparkle, and brilliant - really brilliant - mother-of-the-bride outfits with stunning wrap jackets and silk 50s-style duster coats, this is a designer who can do no wrong right now.
It was the same with accessories. Shoe maestro Rainbow Club, clocked up figures showing an astonishing 97% increase on March of the previous year, and opened double the number of new accounts. Its Rainbow Couture Collection and the superb, top-of-the-market Hassall are undoubtedly the reason for this massive increase - who, after all, could resist a pair of silk and lace shoes, tie with a spotted silk chiffon bow?
The number of retailers represented at BBEH is a clear marker of industry confidence. Figures, which are certified by the official body, ABC, showed that 1087 individual bridalwear shops attended the exhibition, although some brought fewer members of staff with them than normal. (We are in a competitive arena, said one. Now we are open on Sundays, we need to make sure we offer continued service. The days of closing shop for the duration of BBEH are over - our customers expect us to be there, looking after their every need.) It's a move most exhibitors applaud. When a shop owner is here with just one member of his or her team, they tend to be very precise in their buying. It's easier all round and we can give them the attention they want but in a briefer time slot. If the recession has done one thing, it has taken the 'messers' out of the equation and made the professional buyer stronger than ever.
The British Bridal Exhibition is now in its 26th year.
NOTES:
(1) Other classic Linda Evangelista quote enjoyed by scientists everywhere:  "It was God who made me so beautiful. If I weren't, then I'd be a teacher."