Between 1999-2016, young adults had substantially higher deaths from cirrhosis in 49 of 50 U.S. states. The deaths linked to the end stages of liver damage jumped by 65 percent with alcohol a major cause in adults age 25-34.
The data published in BMJ shows young adults experienced the highest average annual increase in cirrhosis deaths -- about 10.5 percent each year and driven entirely by alcohol-related liver disease, the authors say. Researchers studied the trends in liver deaths due to cirrhosis by examining death certificates compiled by the Centers for Disease Control and Prevention's Wide-ranging Online Data for Epidemiologic Research project.
The rise in liver deaths is the opposite of where liver specialists expected to be after pharmaceutical gains in beating hepatitis C, a major liver threat seen often in Baby Boomers. Antiviral medications have set the course to one day eradicate hepatitis C. Instead, mortality due to cirrhosis began increasing in 2009 and cultural pundits are quick to blame the recession which led to loss of people's savings, homes and jobs, but 14-year-olds were not becoming raging alcoholics due to that.
The cirrhosis deaths totaled 460,760 during the seven-year study period; about one-third were attributed to hepatocellular carcinoma, a common type of liver cancer that is often caused by cirrhosis. In 2016 alone, 11,073 lives were lost to liver cancer which was doubled the number of deaths in 1999, though that could be a statistical anomaly.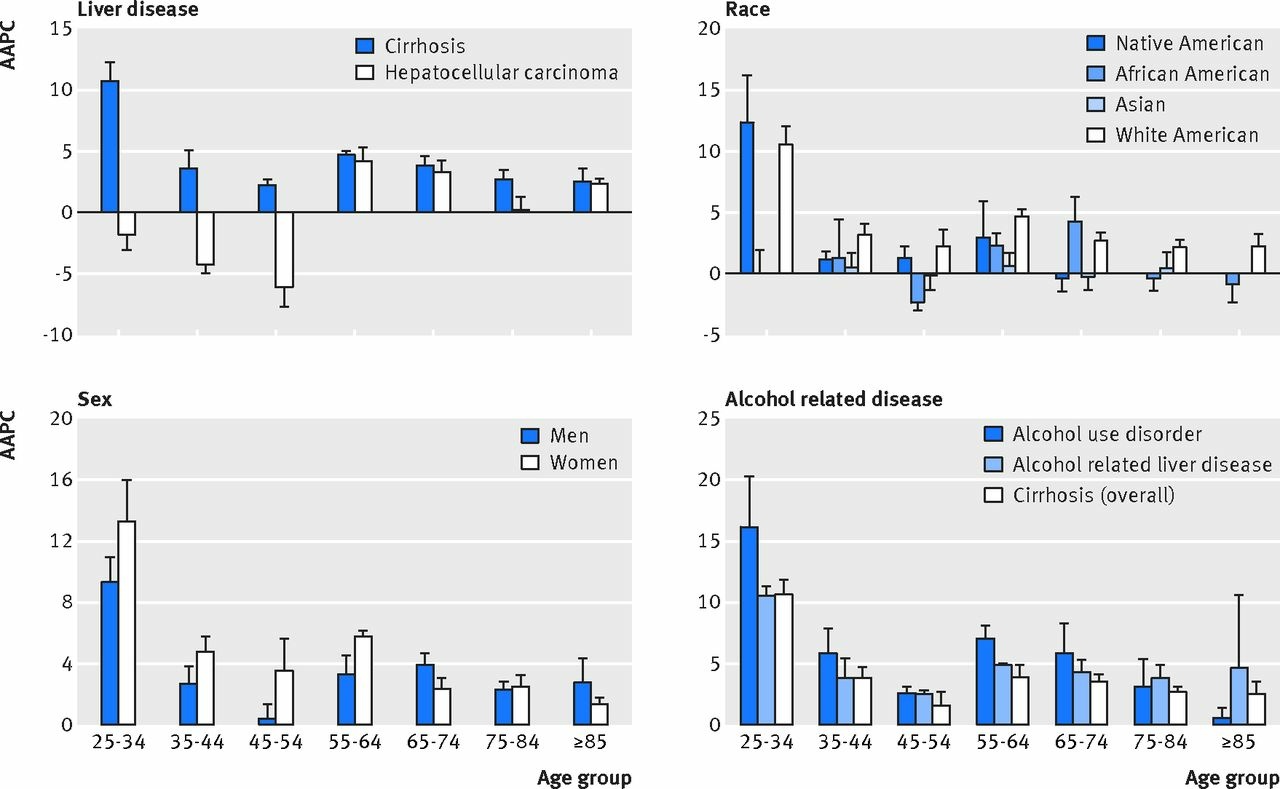 Trends in mortality due to liver disease by age group in the USA, 2009-16. AAPC=average annual percentage change
Cirrhosis deaths were highest in Kentucky, Alabama, Arkansas and New Mexico. Only one state, Maryland, showed improvement, though its rates were higher in the past.