If you intended to holiday at a place that underwent a disaster it might be a good idea to keep your plans, especially if you are civic-minded and are willing to help.
Such "volunteer tourism" can actually help communities recover from natural disasters,
a new study finds
.
Most people will do nothing of the kind, they will send "thoughts and prayers" on Twitter and go anywhere else, but if you are a volunteer tourist (willing to help) rather than a disaster tourist(you want to take selfies) it will bring practical benefits, along with intangible economic ones.
The researchers examined the impact of volunteer tourism programs in Nepal in the wake of the April 2015 earthquake. The Nepal earthquake measured 8.1 on the Richter scale, killed nearly 9,000 people, and injured 22,000, with severe damage to buildings and infrastructure.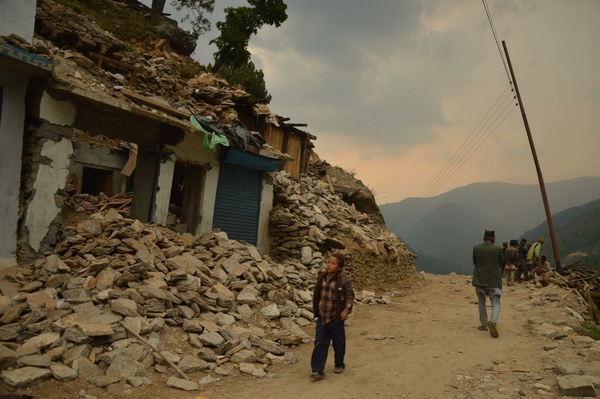 Nepal's Gorkha district after the 2015 earthquake that killed nearly 9,000 people and injured 22,000. Tourism helped lead the way back. Image: EU/ECHO/Pierre Prakash
In the four months that followed the Nepal earthquake, international tourism more than halved. Even relied worker volunteers were not to come unless they had specific expertise, such as medical training, building skills, or emergency response experience. It had a lot of consequences for an economy already devastated so the Pacific Asia Travel Association and Nepalese tourism industry leaders worked together to produce the report of the Nepal Rapid Recovery Task Force, running workshops with more than 200 tourism industry leaders and professionals, to prioritize potential tourism regrowth markets, including volunteer tourism.
Nepal then relaxed conditions to allow international tourists to volunteer on a wide range of projects including rebuilding homes and schools, interning in hospitals, supporting non-government organizations and re-establishing sustainable agriculture. In 2015, the year of the earthquake, just under 600,000 international tourists visited but by 2018 the number had reached an all-time record of almost 1.2 million. In 2019 it grew further.
The Nepal Association of Tour and Travel Agents says almost one third of the tours booked to Nepal in the two years after the earthquake comprised groups who combined tourism experiences with volunteering or philanthropy.
"Nepal's tourism recovery since the April 2015 earthquake has been remarkable and as our research shows, volunteer tourism has been a significant driving force for that recovery,"
says Dr. David Beirman
from the University of Technology Sydney. who was involved in the Nepal Rapid Recovery Taskforce.
Obviously even if volunteer tourism can be an important way to help destinations recover, care needs to be taken to ensure programs benefit both the community and volunteers, using an ethical approach that allows local communities to drive individual projects. And volunteers must want to spend some time working on a 'vacation' they paid to participate in.