As Peru's Wari kingdom sought to shore up their crumbling empire over 1,000 years ago they did it with their own form of bread and circuses - cocaine, ayahuasca, and
a beer with psychedelics mixed in
.
Since the concoction was only made by elites without a penalty of death, festivals became a way to exercise political control among friends and challengers alike. It obviously didn't work forever, the Incas conquered them, but the archaeological evidence provides a compelling look into South American culture of 1000 AD.
What the study found was that Incas clearly learned the technique from earlier tribes. While beer is a communal experience, hallucinogens require far more care, and the authors of the study compare that to how early exclusionary political maneuvering led to more modern inclusive approaches. When elites added vilca molle beer at feasts. they created a "corporate strategy of governance via patron-client feasting relationships." When you do what we want, you are one of us.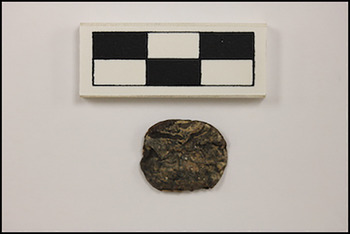 Vilca seed recovered from Component II at Quilcapampa (scale in cm; photograph by M. Biwer).
Earlier in history, vilca snuff and other hallucinogens were only for shaman and elites, much the same way that Mauna Kea in Hawaii is considered a holy site today, but none of the protesters against astronomy there would have been allowed to visit. Just as most drugs lose their efficacy over time, special occasions need to happen more often for the effect to remain. Molle beer, likely brewed because it has high sugar content, meaning more alcohol, became common. Then the vilca began to be added in.
The researchers inferred all this thanks to the arid conditions. Among the variety of plant remains recovered from Quilcapampa they found 16 vilca seeds —the first ever recovered from a Wari site. And because of the difficulty to make the hallucinogen, the authors believe that meant it was an important part of the Wari political economy and no traces of smoking paraphernalia means it was likely ingested in the beer.
Everyone wins. The guests got a special treat while the hosts were clearly the people who delivered the goods. No one but elites knew how to do it. It's a form of governance that exists today in every country and the paper shows that it probably always has.