It's been revealed that what Santa needs is a comfortable armchair and a fast finger to turn a 24,902 mile(a) shopping trip around the world into just 1 hour(b) spent in front of a computer, leaving Santa all rested up to do his Christmas Eve deliveries.
150 clicks are all it would take for Santa Claus to buy all the presents from across the world for a typical UK family(c). Santa need not spend £3370 on sleigh fares(d) nor travel 56 hours(e) on his famous sleigh to purchase the presents either, as he would in years past.
To buy 5 gifts from around the world for a typical UK family this year, Santa need spend just one hour online to virtually travel around the world to purchase the gifts direct from their countries of origin and have them delivered into his grotto in Lapland. It takes an average of 30 clicks of the mouse for Santa to buy(f) the Jones family each of the gifts below: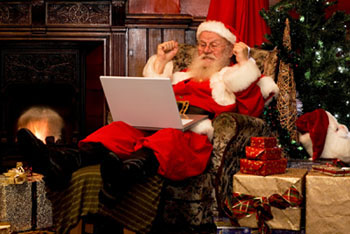 Santa on an Intel(R) Centrino(R) powered laptop picture courtesy of Intel, provided we put in those (R)'s everywhere and mention Intel(R).
- Champagne- from France for Mrs. Smith saving 1,666 miles travel and £325 airfare
- Shortbread- from Scotland for Mr Smith saving 234 miles travel and £200 airfare
- Dr Who(i) Box Set- from England for John Smith Jnr saving 1,434 miles travel and £247 airfare
- Nike(i) trainers- from US for Jane Smith Jnr saving 7,252 miles travel and £835 airfare
- Finest Tea - from India for Grandpa and Grandma Smith saving 8,256 miles travel and £1763 airfare
At 14,000 years old(g) Santa could do with a rest before Christmas Eve, but he is not the only one; Christmas shoppers could get their families' shopping done online in the average one-hour office lunch break and save up to eight hours trekking from store to store, not to mention avoiding heightened Christmas stress levels. With all of the Wi-Fi hotspots across the world it is no longer hard to find somewhere to settle down and do the shopping.
Steve Shakespeare, Intel Director of Consumer, said:
"Santa deserves to be able to shop the easy way online so he can put his feet up before doing all those present deliveries on Christmas Eve. In fact, I think we all need to conserve a little expense and energy before Xmas, so using a laptop and Wi-Fi to shop online is a great idea".
According to Intel marketing, the amount of time spent shopping online for Christmas gifts can be up to eight times less than one would spend shopping, due to internet search capabilities and faster-than-ever processing speed and Wi-Fi connectivity. This would mean Santa need not stop at getting the Jones' their gifts online, he could purchase gifts online for every person in the world in a record 1.32 billion hours, 198 billion clicks of the mouse, and save himself having to travel to 194 countries to drop presents off(h).
---------------------------------
(a) 24,902 miles is the length of the circumference of the earth
(b) To buy the 5 pre-identified gifts online consistently takes approximately one hour using an Intel(R) Centrino(R) Processor (Those product placements could get old - editors ) and Wi-Fi connection
(c) This is figure is taken from experimentation in-house at Intel
(d) The total cost of return airfares from Lapland to each country listed
(e) The total in flight time to travel to and return from each country listed
(f) To buy the average gift online takes 30 clicks of the mouse, therefore for 5 gifts would be 150 clicks
(g) Saint Nicholas is the common name for Saint Nicholas of Myra, who had a reputation for secret gift-giving, but is now commonly known as Santa Claus. He lived in 4th century Myra, http://en.wikipedia.org/wiki/Saint_Nicholas, so he would be between 1300 and 1400 years old, if he was ( WAS??!!? Is, you Scrooge - Editors ) still alive
(h) 30 clicks multiplied by the world's population of 6.6 billion = 198 billion clicks to purchase for all the world's population. If it takes an hour to purchase 5 simple gifts then to buy for 6.6 billion people would take 79.2 billion minutes=1.32 billion hours