People are sometimes surprised to hear that I am both a research scientist and an artist, but I see them as quite similar in purpose, only different medium. They both involve imagination, visualization, and communication of those ideas in a way that makes it accessible and interesting for an intended audience. For me, they go hand-in-hand.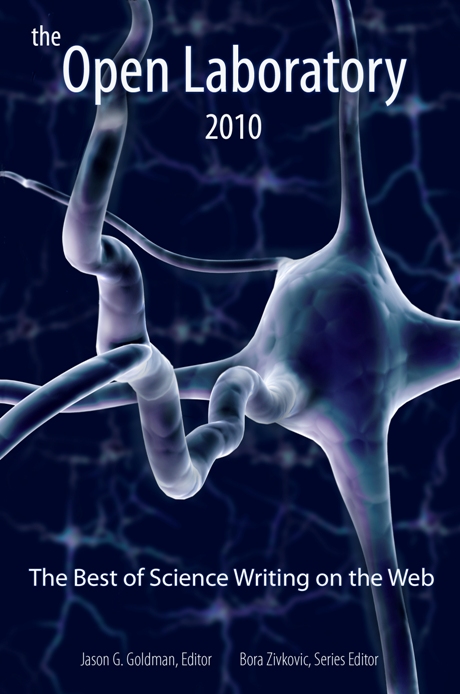 The cover of this year's Open Laboratory 2010, designed by myself, Andrea Kuszewski.
Naturally, I was thrilled to see this aspect of science communication being highlighted at the
Science Online 2011
conference in January. "Science-Art: The Burgeoning Fields of Niche Artwork Aimed at Scientific Disciplines" explored the merging of science and art to serve a common purpose—to educate people about complex concepts that in ways that not only portray the truth and beauty in science, but also spark curiosity, imagination and wonder.
The presenters were
Glendon Mellow
, Scientific Illustrator and Visual Artist, and the designer of last year's
Open Laboratory 2009
cover art;
David Orr
, Graphic Designer and Artist; and
John Hawks
, Paleoanthropologist and Scientific Illustrator. They bring up a number of very interesting issues, including accuracy in science-art, how to share/find images in the public domain, speaking to your specific audience, and what art can provide as a medium that adds to both scientific communication and to potential discovery.
They explore the work of a few well-known scientific artists that are doing some pretty amazing and relevant stuff in the fields of paleontology, anthropology, and other scientific disciplines. And... I make a few long-winded (sorry, I blame lack of sleep!) comments about 45-50 minutes into the video as well. Watch the presentation—you won't be disappointed.
Science-Art H264 Widescreen 960x540 from Smartley-Dunn on Vimeo.
Here is the link to the Wiki that they refer to in the video, where you can find links to the artists they discuss, and to their portfolios. All of the art images pulled up during the presentation can be accessed through the Wiki. I love the internets!!