This Saturday night, a global effort is set to take place to promote energy conservation – the 3rd annual Earth Hour. To join in on the effort, simply turn off your lights from 8:30 – 9:30pm in your local time zone. This worldwide effort is designed to demonstrate that each person has a choice in their energy consumption - and at any time can simply choose to use less.
Turning off your lights is an easy way to reduce your energy usage, as well as reduce your energy bill. But as with many things, it's always more fun to do it with friends. So 8:30-9:30pm on March 28th 2009 has been designated as the specific time when people and cities around the world will dim their lights to show their acknowledgement that sometimes little actions can have big impacts.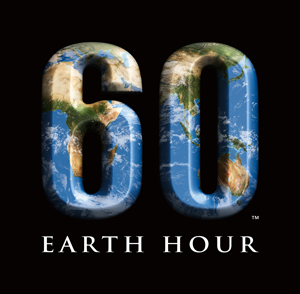 Some 2,400 cities in 82 countries have signed up to participate, six times more than last year. Some of the landmarks scheduled to go dark include the Great Pyramids and Sphinx in Egypt, Acropolis in Greece, Broadway Theater marquees, the Las Vegas strip, Eiffel Tower in Paris, Moscow State University and the Petronas Towers in Kuala Lumpur.
Earth Hour began in Sydney in 2007, when 2.2 million homes and businesses switched off their lights for one hour. In 2008 the message had grown into a global sustainability movement, with 50 million people switching off their lights. Global landmarks such as the Golden Gate Bridge in San Francisco, Rome's Colosseum, the Sydney Opera House and the Coca Cola billboard in Times Square all stood in darkness.
This year however, Earth Hour has been transformed from being just a sign of solidarity regarding energy conservation, to a "global vote." The organizers of this year's event are publicizing participation in the event as a vote "For Earth and Against Global Warming". According to Earth Hour sponsor WWF (that's the World Wildlife Fund, not the World Wrestling Federation),
"For the first time in history, people of all ages, nationalities, race and background have the opportunity to use their light switch as their vote – Switching off your lights is a vote for Earth, or leaving them on is a vote for global warming. WWF are urging the world to VOTE EARTH and reach the target of 1 billion votes, which will be presented to world leaders at the Global Climate Change Conference in Copenhagen 2009. This meeting will determine official government policies to take action against global warming, which will replace the Kyoto Protocol. It is the chance for the people of the world to make their voice heard."

This may be a little harder pill for participants to swallow, because the concept of global warming is still about as controversial as the realism of WWF events (this time I'm referring to the World Wrestling Federation, not the World Wildlife Fund). Although carbon emissions are on the rise, its overall impact to the world climate is still a topic of fierce debate.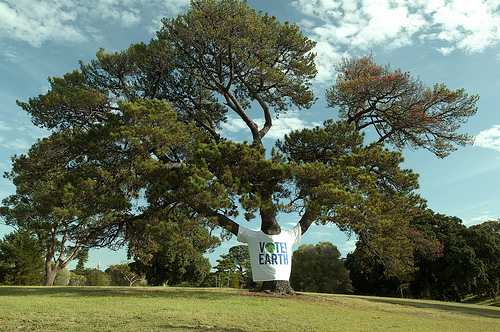 Even trees are getting in on the act
Some scientists are confident that the temperature increases we are experiencing are all within normal heating and cooling trends that have been occurring for centuries, long before industrialization was ever an issue. Other scientific bodies have stated unequivocally that global warming is occurring, and people are causing it by burning fossil fuels – and the only debate about global warming is about how much and how fast warming will continue as a result of heat-trapping emissions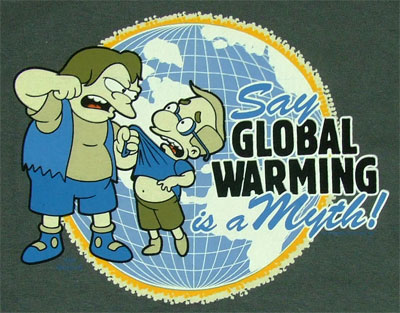 As a result of this controversy, not everyone agrees with the message of Earth Hour - and at least one counter-protest is planned for Saturday. Suburban Philadelphia ice cream shop owner Bob Gerenser, 56, believes global warming is based on faulty science and calls Earth Hour "nonsense." The resident of New Hope, PA, and owner of Gerenser's Exotic Ice Cream planned to illuminate his store with extra theatrical lighting.
"I'm going to get everyone I know in my neighborhood to turn on every light they possibly can to waste as much electricity as possible to underline the absurdity of this action ... by being absurd."

Despite the controversy over "global warming" or climate change, I personally think that energy conservation is never a bad thing. So the lights will go out in our house for an hour on Saturday, for no other reason than to remind my family that at any time we can choose to reduce our energy usage by simply flicking a switch.