I know Thanksgiving is tomorrow but I'm getting a head start, in anticipation of the food coma I assume I will be in tomorrow. In no particular order, I am thankful for:
1. Jessica Hagy, at Indexed.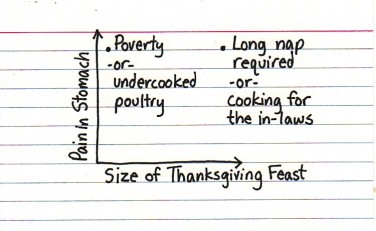 2. Humor, especially the ability to laugh at one's self (always a lot of fodder for jokes).
3. Mothers at grocery stores who are willing to offer advice on any cooking question to panicked younger shoppers, including whether the bag full of apples you are holding will indeed fill up the requisite four cups to make Mom's caramel apple pie.