The scholarly journal
Parallax
(vol. 16, no.3, 2010) is a special edition on the subject of 'YES!'.
Gary Peters
, who is Professor of Critical and Cultural Theory at York St. John University, UK, is guest-editor for the issue, and is also author of one of the key papers
'Yes, No, Don't know'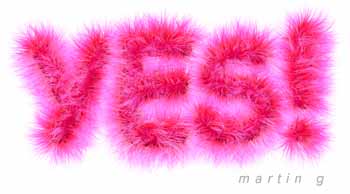 The full-text article costs US$43.00 for non-subscribers to download, but a work-in-progress overview along the theme of "Yes', 'No', 'Don't Know"
can be read here
free of charge.
It describes how one fruitful approach in an analysis of the affirmative grammatical particle 'Yes' might be to examine the word which some see as its opposite – 'No'.
Professor Peters explains :
"The 'power of no' is double, not only does it stop the 'yes' in its tracks but at the same time it creates the very desire that fuels the affirmative spirit it is so keen to derail. In other words, the 'no' itself creates the 'yes' that it must say 'no' to, thereby augmenting its negative potency in a dialectical escalation that forever ties the affirmative to its own denial."
Curiously perhaps, the paper doesn't mention of one of the most famous applications of 'Yes' in art – Yoko Ono's
Ceiling Painting
(1966). Viewers of Ono's now-classic piece climbed up a white step-ladder in the centre of the Indica Gallery in London, finding a magnifying glass hanging from the ceiling which allowed them to view the word "YES" written in tiny letters on a framed piece of paper fixed to the ceiling.
As John Lennon put it at the time : "I would have been quite disappointed if it had said 'NO,' but was saved by the fact it said 'YES'".
Bonus:
The professor also curated a collection of thirteen especially composed 'YES!'-inspired musical items for the journal issue (four of which feature him as composer/performer). Unfortunately they weren't included in the final production of the journal, but they are nevertheless archived online and can be heard or downloaded here. (mp3 format)