Neil Armstrong's Heartbeat - EKG Up For Auction
[edit]
This article has been updated - please see:
One Small Step - Two Small Strips ( Or Maybe Three )
RR Auction of Amherst New Hampshire has announced a 2013 Space and Aviation Autograph and Artifact Auction. Items on sale will appeal to aviation and space buffs. RR Auction states that "Offerings include over 850 museum quality artifacts from the Golden Age of aviation and space flight".
I am currently writing a series of articles about the history of the development of the
pacemaker
, so quite naturally the item which interested me the most was an electrocardiograph of
The heartbeats that made the first moon landing possible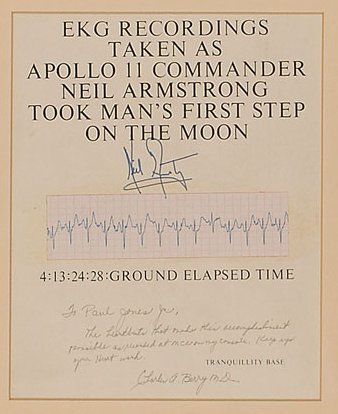 From the
RR Auctions web page
:
Lot #405 - Neil Armstrong

EKG reading from man's first step on the moon presented to a member of the medical team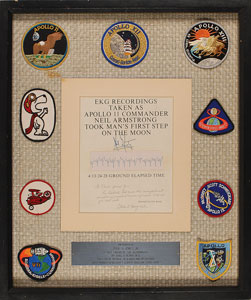 Description
EKG strip, six inches long, taken as Apollo 11 Commander Neil Armstrong took man's first step on the moon. This is an actual strip of the EKG from Armstrong's heart monitor at the moment he stepped onto the lunar surface. Strip is affixed to a 7.5 x 9.5 presentation sheet which reads, "EKG Recordings Taken as Apollo 11 Commander Neil Armstrong Took Man's First Step on the Moon" and "4:13:24:28 Ground Elapsed Time." Sheet is signed and inscribed in pencil, "To Paul Jones, The heartbeats that made this accomplishment possible as recorded at MCC on my console. Keep up your heart work. Charles A. Berry M.D." Presentation also bears a Neil Armstrong autopen signature. Sheet is matted and framed with mission patches from Apollo 7, Apollo 8, Apollo 9, Apollo 10, Apollo 11, Apollo 12, Apollo 13, and two Snoopy patches, to an overall size of 20.75 x 24.75. In fine condition, with toning around strip from adhesive. After the landing, this EKG report was saved by the Manager of Medical Administration for the Space Center. It was cut up into five pieces; four were presented to the attending physicians on the medical team. RRAuction COA.
Source:
RR Auctions
.
Bidding for the Space and Aviation Auction opens May 16th, 2013 and ends May 23rd, 2013
Copyright: fair use claim.
Fair use is claimed under 17 U.S.C. 107 on the grounds that this is a news story and that it is likely to enhance the value of the item.